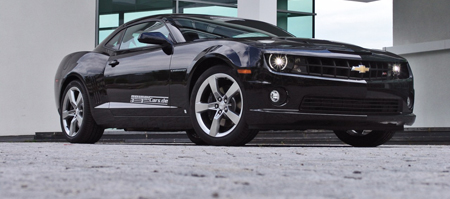 Geiger Cars are known for two pretty important things over here in Europe. Firstly, for importing the many US cars that we simply don't get on this side of the pond. They have been doing so with the new Chevrolet Camaro and successfully with other cars for a while. Secondly, they're also known for the tuning work that they can carry out on these cars.
Geiger are dedicated almost entirely to working on US cars both in terms of importing them and tuning them. The latest project they've taken on, the Chevrolet Camaro, includes a minimal styling upgrade. Apart from this there's very little to tell about the cars. The tuning's certainly not as extreme as some of the cars we've seen from the company in the past.
The price for American metal in Europe? Between €39,900 and €50,615 depending on the spec you choose. A considerable premium over the cars US retail price.
[Via Autoblog.nl]