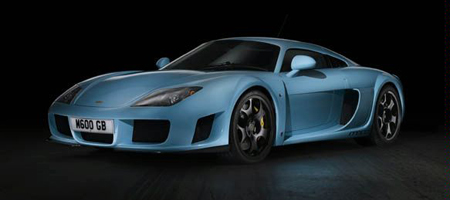 You may remember us giving you some spyshots of the new Noble M600's extensive testing. Well now the company are ready to show us what the car will really look like in production guise. Plus they've confirmed a few details about the power plant and it's performance figures. Noble's managing director, Peter Boutwood, claims that the M600 is "designed to provide a pure and uncorrupted driving experience".
At the end of last year, we speculated that the M600 could have over 600bhp. The production car will actually feature an adjustable Motec ECU that will be able to switch between 450, 550 or 650bhp at 6800rpm. This offers enough scope for people to be able to enjoy the car at a level they feel comfortable with. A figure of 520bhp per tonne will be available in the highest setting as the M600 only weighs 1275kg.
Weight will be of utmost importance with this car, allowing it to perform to it's maximum potential and beyond the benchmarks set by other competitors. For example, Ferrari state that their F430 weighs in at 1450 kg, 175kg heavier than the M600. Even Porsche's 911 GT2's 1440kg weight barely compares with the M600. This places it in a market mostly of it's own. Although, considering it's predicted £200,000 (€232,000) we'd expect it to trump these cheaper rivals!
The power will come from a pretty inconspicuous 4.4 litre Volvo V8 linked with a set of hair raising Garrett twin turbochargers. Currently, this set-up has been tested to a 750bhp benchmark showing the durability of the set-up.
The headline figures in terms of performance are: 0-62 mph in 3.0 seconds, 0-100mph in around 6.5 seconds, and a top speed of 225mph.
Noble's CEO talks of the car being as close as you can get to the style of driving experience the Ferrari F40 and McLaren F1 offered. Small details hint at this, the M600 has a six-speed manual unit made by Graziano (a UK based gearbox specialist) instead of the semi automatic paddle shift boxes that are commonplace on cars of this price level. The M600 also has a traction control system that can be defeated at the flick of a switch.
Another piece of info that we've picked up is that the M600 will have a 60/40 weight balance.
The move upmarket for Noble has apparently been necessitated by the reduction in demand experienced for their British sports cars. The company has experienced a near re-branding for the M600. Hopefully the car will make it's debut at the 2009 Goodwood Revival which runs from 19-21st September.
[Via Autocar]