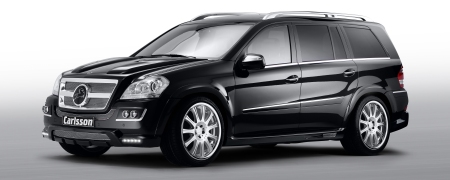 For those not familar with the Mercedes-Benz GL, its the model with the biggest dimensions within the entire line-up of the German carmaker. Carlsson, the tuner from from Merzig/Germany, has developed a RS-kit giving the GL a sporty look and a powerful appearance. The complete package contains of extras regarding the exterior, lights, light alloy wheels, ride height and performance.
The newly designed front is the most significant change, according to Carlsson. The front spoiler lip lowers the GL visually closer to the road. The large radiator grill and the two bonnet attachments contain grill inserts made of electro-polished stainless steel. Carlsson added these inserts also to the front skirt, the front spoiler lip and the side skirts. The rear has a new rear skirt attachment which holds the two oval stainless steel pipes of the sport sub-muffler.
You will also find some modifications on the lights of the car. The headlight inserts and the additional headlights are added to the front. The LED daytime running lights in the front spoiler lip complete the new light unit. At night time, they can also be used as position lamps.
There are multiple options available when it comes to engine tuning. The performance kit CK50 has been especially developed for the top model GL 500. Optimised engine electronics and a sport air filter increase the performance from 388hp (285kW) to 435hp (320kW) at 6,000rpm. The maximum torque rises from 530 to 600Nm.
Carlsson also increases the performance of the diesel models. The GL 420 CDI will thrusts out 354hp (260kW) instead of 306hp (225kW). For GL 320 CDI drivers there is an additional control unit C-Tronic CD32 REVO which increases the performance from the serial 224hp (165kW) to 269hp (198kW) with a maximum torque of to 612Nm in stead of 510.
A lowering module C-Tronic SUSPENSION is available and will lower the car by up to 30 millimetres. The unit also recognises the road characteristics and continually adjusts the remaining spring travel. It's available for cars with AIRMATIC-suspension.
The final enhancement to the GL is the 22-inch wheel-set in the design 1/11 Evo Brilliant Edition. The set is available with Dunlop high performance tyres measuring 295/35 R 22.
Prices are 10,119 EUR for the aerodynamics kit, 3,799 EUR for the performance kit on the GL 500, 1,545 EUR on the GL 420 CDI and 1,783 EUR for the GL 320 CDI Plug-and-Play-System. The suspension kit is available for 1,309 EUR. The 1/11 Evo Brilliant Edition can be obtained for 4,985 EUR.