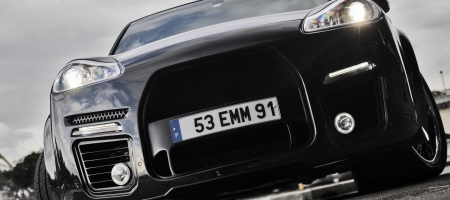 We know Jeremie Paret as former editor of a French tuning magazine and tuner of the LP560. The Porsche Cayenne 'Balrog' is his latest creation. The aggressive and punchy wide bodykit was developed after eight months of hard work and gives a distinctive look to the Porsche Cayenne.
The package contains a front bumper with genuine Cayenne Turbo side lights and fog lights with angel eyes. The bumper improves the cooling of all intercoolers and the front brakes. The drilled luxury grill is hard to miss. The wide fenders will allow you to fit larger wheels.
At the rear of the car, the spoiler and its diffuser give you more aerodynamic pressure. The diffuser can be removed in only a few minutes to let you install a tow hook. Handy!! The side skirts finish of the full package.
If needed Jeremie is happy to install a custom interior, some engine tuning, new wheels or other wishes you may have. But first check out the gallery below, showing some decent pictures of the aggressive new bodykit.
Photo credits: Arnaud Taquet & Guillaume Janvier
[Via Autoblog.nl]