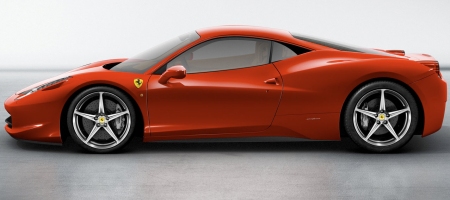 Rumoured over the past few weeks as being the new F450, the latest Italian supercar is introduced today. The new Ferrari 458 Italia is the fastest 'prancing horse' ever built with a top speed of 325km/h (203mph) and a 0-100km/h (0-62mph) sprint of less than 3.5 seconds. The new advanced 4.5-litre V8 engine with double clutch and seven speed gearbox offers a staggering 570bhp at 9,000rpm and 540Nm at 6000rpm. Why the name Italia? Ferrari hopes it will be the new pride of Italy. More after the jump.
Most of you would say that the 458 is a refreshed 430 capable of competing with cars like the Audi R8 and Lambo LP560-4. Some of its is true, but if we believe Ferrari there is something else to it. The Italia has a new engine, chassis and suspension technology incorporating materials like magnesium and carbon fibre. All to ensure a low weight of 1,380kg and power-to-weight ratio of 2.42kg/bhp.
If you look at the design you will notice similarities through out the line-up. However, there is a new radical look designed by Pininfarina. The new head lights include LED technology and a distinctive black front grille. The interior was designed by Chief of Design, Donato Coco.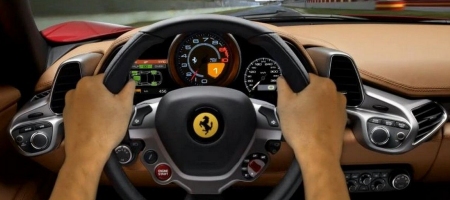 The new aerodymanic pack is highly effective and generates at 200km/h (120mph) around 140kg of down force. Two movable wings have been added to the supercar as an active aerodcynamic system, helping to reduce drag at high speeds.
There is no four-wheel drive system. All the power goes to the back wheels. Ferrari implemented its e-diff limited slip differential system and adjustable F1-Trac traction control system to ensure no horsepower is lost. Stopping the 458 is the main task of the lightweight carbon ceramic brakes. According to Ferrari, the supercar is the fastest point-to-point machine the firm has ever built. Combined with the ABS the 100-0km/h braking distance has been cut to a mere 32.5 metres.
The Ferrari 458 Italia will make its public debut at the IAA 2009 in Frankfurt at the beginning of September. First production versions will hit the streets early next year. Prices start at 200,000 EUR or 280,000 USD. Ferrari has started taking orders, so run to your local dealership and make sure you are one of the first…