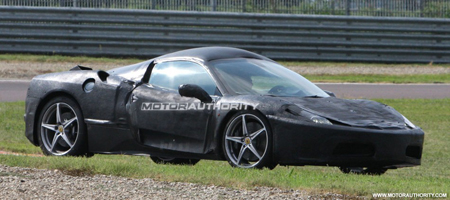 We're guessing that the final shaping of the F450 is almost complete. Underneath all this camouflage there looks to be a car that's pretty complete. This shape fit's with the spyshots we've seen before of the F430 replacement, these shots give us a few new details to pass onto you about the cars design.
The most obvious detail to discuss is the new triple exhaust pipe. It's obviously influenced heavily by the iconic F40 and we think they look great on the car!
The shots also show is that the car is both  longer and wider than the outgoing model. It also has larger air intakes and we can see a little bit of the rear diffuser design.
The F450 is rumored to use a 4.5 liter V8 unit with up to 575bhp and could incorporate the seven-speed dual-clutch transmission from the California to put the power onto the road. Expect state of the art Formula 1 based technology to be included in the car as well, most likely of which is a new, road going version of the KER's technology.
The latest rumors we have also indicate that the F450 could make it's introduction at one of the US motor shows instead of the Frankfurt based IAA 2009. This is because Ferrari chief's decided on a  re-design to accommodate the use of a Hybrid engine in the initial concept vehicle.
If these rumors prove to be true, we expect that the LA Motor Show in December may be a likely event or even next years Detroit Motor Show.
[Via MotorAuthority]