Ahead of the Frankfurt Motor Show 2017 which starts next week, Brabus have debuted their package for the Mercedes-AMG E 63. This 700 hp monster is expected to prove extremely popular for the German tuning company. Modest upgrades and a subtle but unique styling kit adds a new appeal to the super saloon.
Brabus have a series of power packages, for the Brabus 700 Mercedes-AMG E63, the PowerXtra B40 – 700 package has been applied to the basic Mercedes-AMG E 63 S 4MATIC+. The 4.0 litre V8 gets an additional 88 hp thanks to a plug-and-play auxiliary control unit with new mapping for injection, ignition and boost pressure.
Brabus 700 Mercedes-AMG E63
612 hp quickly jumps to 700 hp at a low 6,100 rpm. Torque grows from 850 to 950 Nm. As a result, the Brabus 700 accelerates to 100 km/h in just 3.2 seconds and on to a top speed of 300 km/h (186 mph) with the possibility of a derestricted option in development. A fully stainless exhaust lowers the back pressure and unleashes more sound!
In terms of aerodynamics, Brabus offers carbon fibre pieces for the E 63 including a front spoiler lip which attaches to the underside of the E 63 production bumper. It features surrounds for the air intakes on the left and right in the front bumper. A rear diffuser insert and rear spoiler are available too.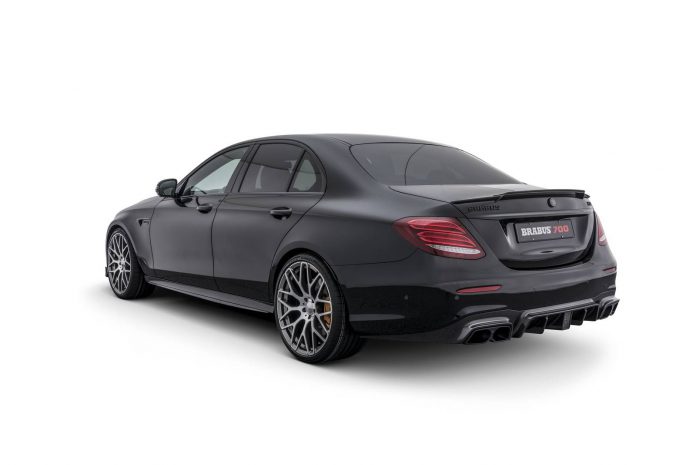 Brabus offer their own unique wheel designs measuring 21 inches. Suspension sits 20 millimetres lower. Inside, Brabus can cater for any customer's unique taste with leather, alcantara, carbon and sorts of unique interior options. The Brabus 700 Mercedes-AMG E 63 will be on display at Frankfurt next week so we will make sure to bring you live photos!