Today is the first press day of the 2017 New York Auto Show and the press releases are pouring in. A rather remarkable car that is being unveiled today in New York is this Dodge Challenger SRT Demon.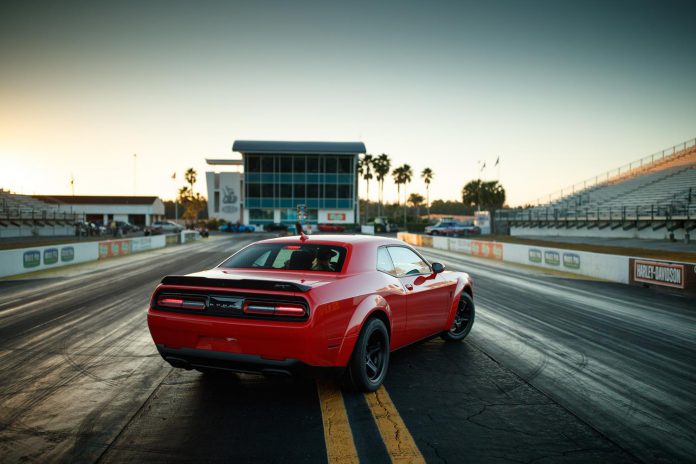 Where we thought things couldn't get more extreme than the Challenger Hellcat, Dodge have outdone themselves again with this 840 horsepower monster, the most powerful muscle car ever. Never before did a V8 engine of a production car produce this much horsepower. The result? It's faster on the quarter mile than a Bugatti Chiron and is capable of making an actual wheelie like we've seen in the Fast & Furious movies.
No joke, the SRT Demon is the first production car ever to have a front-wheel lift (2.92 feet) when fully accelerating and it has been certified by Guinness World Records. Where we were recently quite amazed by the performance of the Tesla Model S P100D on the quarter mile, the muscular Dodge smashes the world record for production cars with an impressive time of 9.65 seconds and 140 mph.
In fact, the Demon is so fast that the National Hot Rod Association (NHRA) deemed it too fast for the drag strip and officially banned it. The brute force of its 6.2-liter HEMI V8 catapults the challenger from 0 to 100 km/h in just 2.3 seconds. In order to achieve this remarkable performance, you'll have to fill up the beast with a special 100+ high octane unleaded fuel.
"With Demon, our goal was to build a car that would tattoo the Dodge logo into the subconscious of the general market, beyond even our loyal enthusiasts, said Tim Kuniskis, Head of Passenger Cars – Dodge, SRT, Chrysler and FIAT, FCA North America. "To do so, we had to set records that have never been set before, do more than has ever been done before, go beyond even the legendary Hellcat. The result: an 840-horsepower, 9-second muscle car unlike anything that has ever come before it."
Dodge Challenger SRT Demon
The muscle car's impressive performance flows from an equally impressive list of street-legal modifications first featured on a production car. It comes with factory-installed wider street-legal drag radials for maximum grip, resulting in 40 percent more launch force compared to the SRT Hellcat. The list also includes an innovative SRT Power Chiller liquid-to-air intercooler chiller system and After-Run Chiller that will cool down the supercharger even when the engine is shut off. A further impressive TransBrake system locks the output shaft of the TorqueFlite eight-speed automatic transmission to hold the car before launch, so the driver is able to to increase engine rpm for higher torque and quicker response.
The list keeps on going with the addition of a torque reserve, which boosts engine air flow and supercharger rpm before launch. Drag mode suspension maximizes weight transfer to the car's rear axle for optimal traction at launch and the drag mode launch assist uses wheel speed sensors to watch for driveline-damaging wheel hop at launch.
Altogether the new Dodge Challenger SRT Demon is the world's most sophisticated drag tool straight from the assembly line, but won't be available for the masses. The 840 hp and 1,043 Nm of torque (770 lb-ft) strong muscle car will be produced in limited numbers and only made available to American and Canadian customers. 3,000 examples will arrive at local Dodge dealers late summer, 300 of which will be offered in Canada.