Audi specialist ABT Sportsline have revealed their version of the Audi TT RS ahead of the 2017 Geneva Motor Show. The ABT Audi TT RS-R produces 100 hp more over the factory model and only 50 will be built.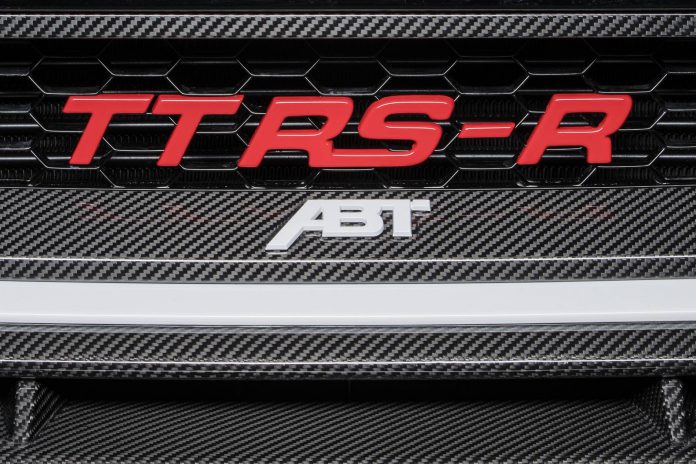 The Audi TT RS was well received after its launch last fall. The top of the line TT pushed the performance boundaries like never before and still rocks the captivating five-cylinder engine with turbocharger. The new TT RS celebrates 40 years of five-cylinder engines at Audi and came with a significant power increase from 340 hp to 400 hp in the new model. Now ABT Sportsline has raised the bar even further.
The updated 2.5 TFSI in the ABT TT RS-R produces an impressive 500 hp and 570 Nm of torque, up from the standard 400 hp and 480 Nm of torque. The tuner from Southern Germany also took on the two-seater's appearance and slapped on various aerodynamic components including a custom front spoiler and flics, side skirt add-ons and an extension of the rear diffuser.
In order to properly stand out the necessary carbon fiber was implemented into the car's exterior as well, which is especially visible in the car's custom front splitter and rear diffuser. Additionally enhancing the car's aesthetics are the custom black honeycomb front grille with contrasting red ABT RS-R logo.
At the rear enthusiasts will immediately spot the replacement of the two oval RS tailpipes by a set of stainless steel double-exhaust tips. Also drawing some serious attention are the custom 20-inch ABT SPORT GR wheels finished in gloss black.
The exclusivity continues on the interior, where custom carbon coating dominates the dashboard and seat panels. Improving the TT RS-R's behavior on the road are the custom suspension springs and sports stabilizers on both the front and rear axle of the car.
ABT Sportsline will bring the ABT TT-RS-R 1/50 to the Geneva Motor Show this year, after which it is ready for order. ABT said that it will also offer individual components for TT-RS conversions.