The name is Alpha G, and she represents the pinnacle of power and performance from the renown AMS Performance team. For years, AMS has positioned themselves as the ultimate GT-R tuning masters for both track and road purposes. They have set and broken records in a scene that dominated by willpower and hard working individuals.
One of these people is none other than Gidi Chamdi, a reckonable force within the GT-R community, known for his insane GT-R builds over the past few years. Perhaps you may remember him more for his blue Alpha 20 Nissan GT-R that dominated a number of events in 2015 before succumbing to damages after hitting a wall during a drag racing event.
As if all that speed is not enough, Gidi is a two sided man who has also managed to build equally mental Lamborghinis for ½ mile racing purposes making him an all important figure within the supercar racing scene in North America. The Lamborghinis are built by Underground Racing well known for their record winning twin-turbo setups on the Italian cars. While he's not at the track, Gidi is probably driving around in his Huracan (his only stock supercar) while doing photoshoots.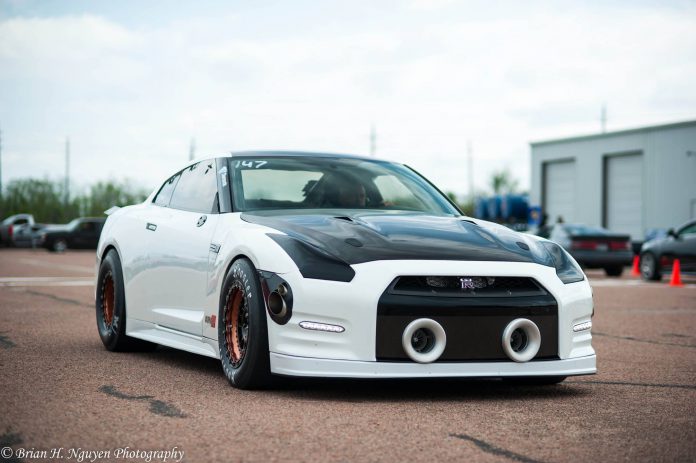 In his latest project, christened "Alpha G", Gidi decided to go balls out into what is now the biggest build of his career. Once again, he teamed up with the AMS Performance crew led by AMS President Martin Musial and Special Projects Technician Ivan Phipps. This is the same team that built the infamous Alpha Omega, the spiritual ancestor of the Alpha G.
The car in question here was an Alpha 12X and at one time held the ¼ mile world record for 35-size turbo (with a 8.2s pass @171mph) before the upgrade began. Alpha G was barely a replacement of Alpha 20, it was a reincarnation with more power feed, more speed and more of everything. It took roughly 4 and a1/2 months for the whole project to be completed, and even so, the car is still evolving having made it race debut at the recent TX2K drag racing event in Texas.
Alpha G Nissan GT-R by AMS Performance
I would love to be the hero here and elaborate all the magic that was put into Alpha G but AMS has been reluctant to reveal full details, at least not until the package is fully tested. There is no word on whether this particular package will be commercialized either but here is what we already know – As it stands, Alpha G produces over 2,500 hp and is equipped with more than 70 psi of boost. AMS plainly admits that this is the biggest project they have worked on, surpassing the Alpha Omega that won them numerous world records – one of the earliest R35 GT-Rs to make a 7s pass.
Alpha G has been fitted with two monstrous forward facing Garrett GTX series turbos and a V2 Billet engine block. The rest is a combination of Alpha products including the carbon fiber intake manifold that can be seen from the photos as well as the naked carbon fiber hood. For such a big project, one could only imagine the amount of testing that is required in order to achieve optimum perfection. On the contrary, due to the time constraints leading to its debut at TX2K, AMS did not have enough time to test it on a track before its maiden race.
Gidi on the other hand had arrived in Texas days before the event, he had not seen the car for five months. Taking the car straight from the workshop into a race is fairy crazy but jumping right into a car that you haven't seen for months, and with more power than your last drive – that requires another level of crazy. But Gidi was too excited to realize that, besides, TX2K is where the big boys meet and where world records are made and broken at the same time.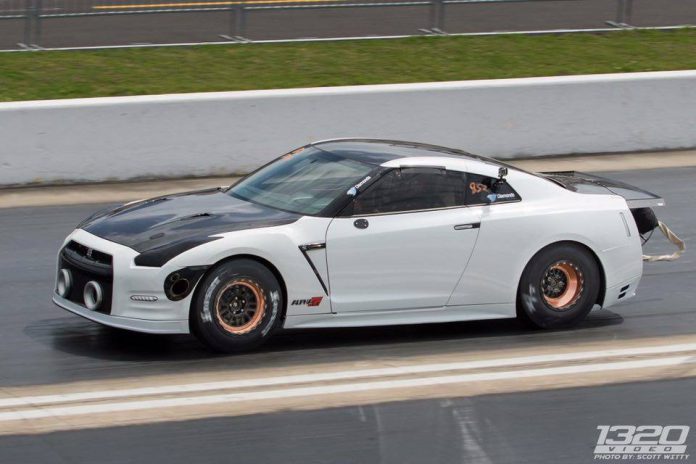 Alpha G arrived in Texas on Friday afternoon and immediately gathered an enormous throng of people at the Royal Purple Speedway. Camera were flying everywhere, live videos were streaming all over on Facebook and Instagram was filled with Alpha G's photos in its official public debut. The AMS crew was able to perform one test run later that night on a boost setting of 35 psi. It recorded a 5.2s pass across the ⅛ mile line and a further 8.3s across the quarter mile line.
With over 1,000 hp left to play with, AMS was confident of what their newest build had become. Gidi went ahead to make his first official pass on Saturday recording a personal best of 7.7 seconds while still on mid-boost setting. Being a new car, AMS made the call to retire it from the competition after discovering some bugs that required fixing at the shop. The eventual winner of the event was an equally powerful GT-R of Tony Palo fielded by T1 Race Development.
Tony and his T1 crew now hold the world record for a GT-R in North America after a successful kick off to the 2016 season. These boys will not rest until they outdo each other over and over again. Besides T1 and AMS, other notable builds include the GT-Rs from English Racing (former world record holders) as well as TopSpeed Motorsports.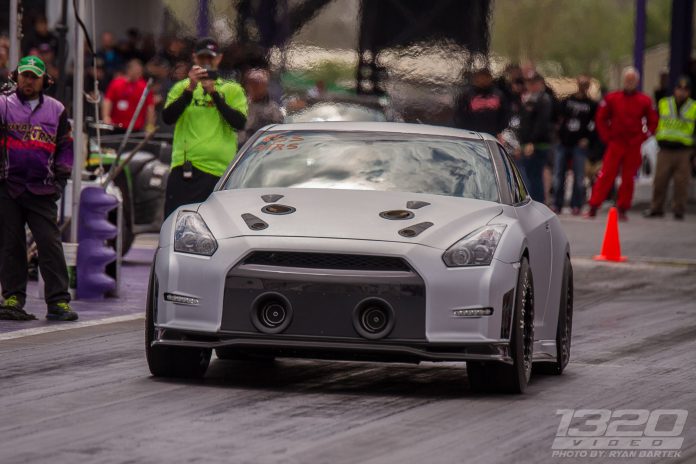 We will update you more on the progress of Alpha G and the entire scene as this is just the beginning, we can promise you it's going to be a competitive season for these boys. The car will be taking part in a number of Shift S3ctor events, Texas Invitational, and the Buschur Shootout in Ohio – follow Diamonds by Wire Racing for more info. Elsewhere, current world record holders – Ekanoo Racing from Bahrain – are expected to fly over to the US to participate in a number of races during the 2016 season.
AMS Team involved in Alpha G project
Ricky Rick: Lead Tech
Dominic Markiewicz: Fabricator
Martin Musial (AMS President): Tuning
Jacob Compton: Tuning
Ivan Phipps(Special Projects Technician): Project Director