The long-awaited 2017 Maserati Levante SUV is now official and will make its public debut at the Geneva Motor Show 2016.
The Levante is Maserati's first foray into the world of SUVs and crossovers, it joins the brand's current product line that includes the Quattroporte, Ghibli, GranTurismo and GranCabrio. The design of the Levante reflects what we have already seen on the Ghibli, the tapered headlights are separated into two, with the upper unit linking to the radiator grille. Additionally, Maserati's traditional three air vents have been fitted on the front wings while the iconic "Saetta" logo rests on the C-pillar.
Maserati is yet to reveal full details of the new Levante, but the Italian carmaker claims that the new SUV is built to handle all terrains. It uses the "Q4" intelligent all-wheel drive system found on the Ghibli and Quattroporte models, an 8-speed automatic transmission has been specially adjusted to suit the new SUV.
The new Levante will launch with three different engine options – two petrol and one diesel.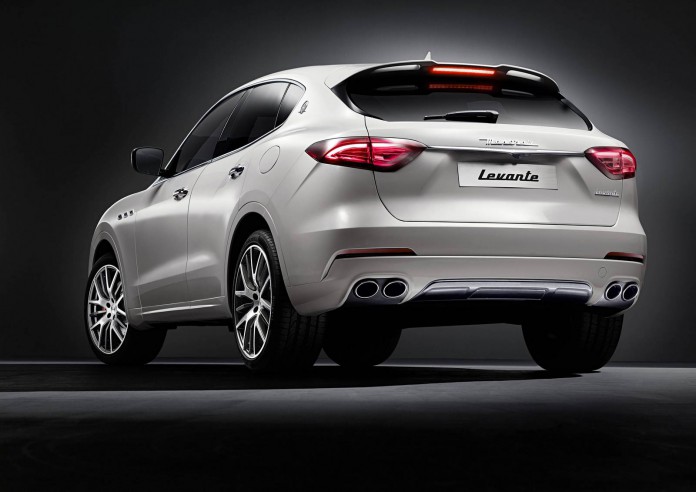 The Levante 350 and 450 models will use the 3.0-liter V6 engine that is currently used in both the Ghibli and Quattroporte. There will also be a 3.0-liter diesel V6 available. The Levante 350 will reach 60 mph in 6.3 seconds with a claimed top speed of 151 mph. The 450 will reach 60 mph in 5.2 seconds with a top speed of 164 mph. We also expect Maserati to offer at least one model of the Levante with the V8 engine from the Quattroporter.
The 2017 Maserati Levante is built at the Mirafiori plant in Turin, the first deliveries will roll out in Spring.