The very first Koenigsegg Agera RS models only just started rolling out of the company's Swedish production facility and already, a stunning white and black example is up for sale in Dubai. Unsurprisingly, it is available from Al Ain Class Motors, a dealership well-regarded as one of the world's greatest. This Agera RS was spied testing a month ago.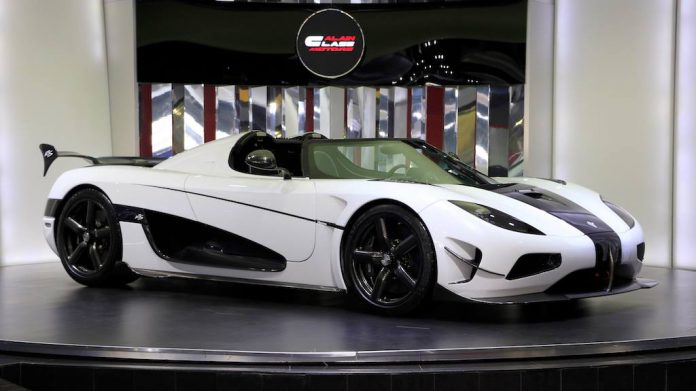 This Agera RS has nothing but delivery miles on it and is perfect for Middle Eastern Koenigsegg enthusiasts who don't won't to wait and have one delivered by the factory. As mentioned, this Agera RS is painted white and features a selection of gloss carbon fibre elements like the centre of the bonnet, the front splitter and canards, side skirts, rear diffuser and the towering rear wing inspired by the Koenigsegg One:1's spoiler. The company's complete carbon fibre wheels are also featured.
Inside, white and black leather adorns the bucket seats as does white contrast stitching and piping. The dashboard is covered in blue alcantara while a number of exposed carbon fibre and brushed aluminium elements are also present.
Generally speaking, the Agera RS bridges the gap between the One:1 and the Agera R. For the RS, Koenigsegg add advanced lightweight sound insulation, a new track optimised front splitter, front winglets, side skirts, an advanced dynamic underbody flap system and a dynamically active rear spoiler to the Agera package. The Agera RS now produces 450 kg of downforce at 250 km/h. It also benefits from improved air outlets around the front wheels, more power and a raised rpm limit.
The Koenigsegg 5.0 litre V8 engine has been optimized for regular pump gas and now puts out an incredible 1160 hp on regular petrol. The Agera RS hasn't entirely ditched the E85 flex fuel capability though. Certain markets will be able to choose this option for even higher power outputs.