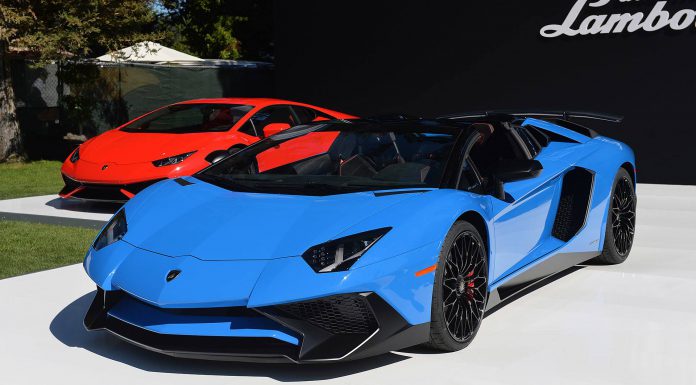 Finished in a spectacular shade of bright blue, the 2016 Lamborghini Aventador LP750-4 SV Roadster has undeniably been one of the highlights of Monterey Car Week 2015. With looks that could kill, the drop top looks even more insane than the coupe on which it is based. As these live pictures from Monterey show, it looks even better in the flesh than the official press photos.
Powering the Aventador SV Roadster is the same upgraded 6.5-litre naturally-aspirated V12 engine as the coupe. Consequently, it delivers the same 740 hp. Unsurprisingly, the Aventador SV Roadster weighs more than the coupe tipping the scales at 1575 kg compared to the 1525. Interestingly, that weight figure means the Aventador SV Roadster weighs the same as the standard Aventador Coupe.
Despite the added weight, the SV Roadster will still rocket to 100 km/h in a mere 2.9 seconds which is just 0.1 seconds slower than the already sold-out Aventador SV coupe. The Lamborghini Aventador SV Roadster won't stop accelerating until it reaches 349 km/h.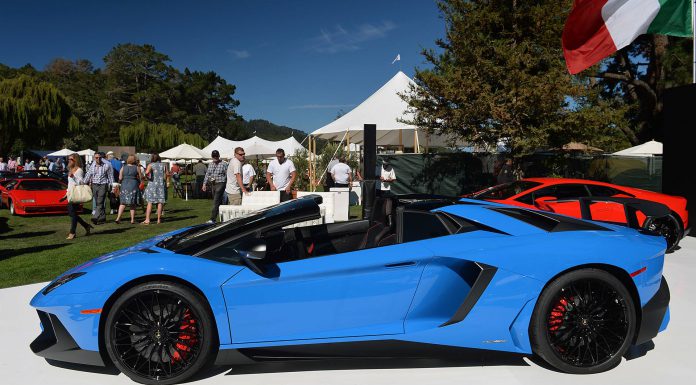 The obvious point of difference between the Aventador SV Roadster and the coupe is the new model's removable roof. Like the standard Aventador drop-top, the roof has to be removed by hand but is now exceptionally light tipping the scales at just 6 kg. This is because it is made entirely from carbon fibre. Elsewhere, the SV Roadster features all the same visual and aerodynamic modifications as the coupe.
[Via Lamborghini Aventador]