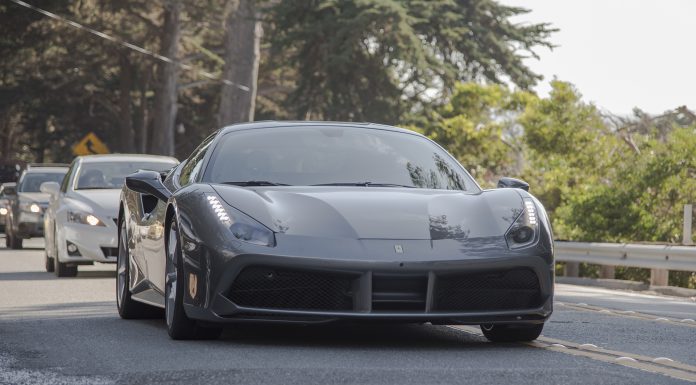 As Monterey Car Week 2015 concludes, our friend KVK Photography caught up with a couple of Ferrari 488 GTB models ripping around the countryside, giving potential new owners a chance to get a feel for Ferrari's latest supercar.
Forty years after the unveiling of its first ever mid-rear-engine V8 model, the Ferrari 488 GTB provides track-level performance that can be enjoyed to its fullest on the streets.
With its twin-turbo 3.9-liter V-8, the 488 GTB can soar all the way on up to 8000 rpm where it makes 661 hp. A dual-clutch seven-speed is the sole transmission; with an estimated 0–100 km/h time at 3.0 seconds. The top speed is around 330 km/h.
The 488 GTB also received a brand new body as well, which takes its inspiration from both the outgoing 458 Italia and the LaFerrari, while paying homage to the classic 308 GTB.
The twin-turbo Ferrari is one quick machine, having lapped the Fiorano track nearly a full second quicker than the impressive 458 Speciale model.