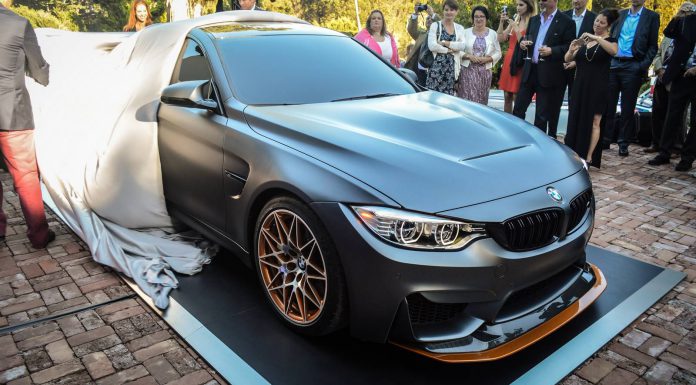 Prior to Monterey Car Week 2015, it emerged that both the BMW Concept M4 GTS and a new version of the 3.0 CSL Hommage concept would debut and unsurprisingly, that's exactly what happened. While the two concepts are very different in that one will soon reach the production line and the other is nothing more than a designer's wet dream, both are truly spectacular.
Starting with the BMW 3.0 CSL Hommage R Concept, it features all the crazy and eye-catching design elements of the 'regular' Hommage Concept unveiled at Villa d'Este earlier in the year. It does feature a few bespoke components however. For starters, it is painted in a shade dubbed Brilliant White and has been adorned with a BMW racing livery. Elsewhere, a set of lightweight gold alloy wheels have been installed while the front features a bolder splitter and revised kidney grilles.
In the cabin, the Hommage R Concept also includes some custom parts. For example, a set of racing-inspired carbon fibre seats have been fitted alongside six-point racing harnesses. Also found inside is a carbon fibre roll cage, white leather upholstery and wooden trim throughout. Finishing up the customisations is a steering column mounted display showing vital track and car information, a fire extinguisher and an emergency engine off switch.
On the other hand, we have the Concept M4 GTS. As the name implies, it previews a hardcore variant of the M4 which will arrive next year. The most significantly mechanical change is its implementation of a water-injection system pioneered by the M4 MotoGP Safety Car. That water-injection system utilises a 1.3 gallon water tank with water being injected directly into the plenums of the intake manifold. This results in lower compression temperatures and BMW claims that this results in extra horsepower and more torque.
Beyond this system, the Concept M4 GTS also features a set of advanced OLED taillights. BMW claims that these taillights preview "a new type of light source producing full-surface and homogenous illumination" with the individual light modules being just 1.4 mm high.
[youtube]https://www.youtube.com/watch?v=K7Rt3BVzgLg[/youtube]
[youtube]https://www.youtube.com/watch?v=US2SheagOp8[/youtube]