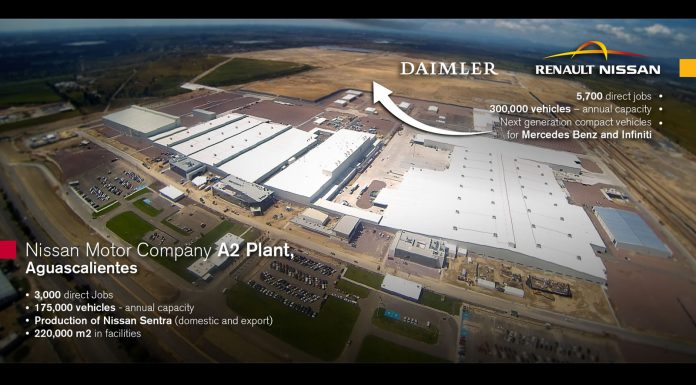 Daimler and the Renault-Nissan Alliance have just announced a brand new manufacturing joint venture dubbed Cooperation Manufacturing Plant Aguascalientes (COMPAS). The venture will see the construction of a large production facility in the heart of Mexico.
COMPAS is owned in a 50:50 split between Daimler and Nissan with both of the large automakers investing $1 billion into the venture. The facility will be responsible for producing a number of next-generation vehicles from both Mercedes-Benz and Infiniti. In fact, the Aguascalientes factory will be able to initially produce 230,000 vehicles annually and will eventually pump out 300,000 cars each and every year.
It will be located near the existing Aguascalientes A2 plant used by Nissan.
Production at the plant will kick start in 2017 with some yet unnamed Infiniti models. The following year, production of Mercedes-Benz cars will commence and by the time 2020 ticks around, it is hoped that the facility will create 3600 jobs.
Discussing the venture, COMPAS chief executive Ryoji Kurosawa said "OMPAS is an outstanding example of the global reach of the Renault-Nissan Alliance and Daimler cooperation. Together we are combining the manufacturing expertise of Nissan and Daimler in one production plant in Mexico for the production of next-generation premium compact cars."