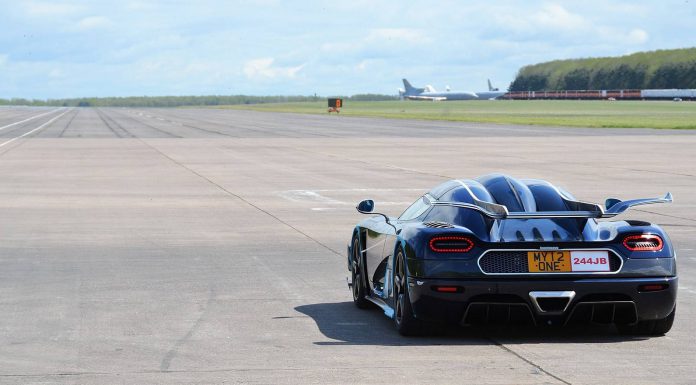 Cast your mind back ten years, 2005 heralded the first in the new wave of "Hypercars", the Bugatti Veyron 16.4. With an 8L quad turbo engine producing a staggering 1000bhp. It was the fastest production car ever made, and that bold statement stood the test of time. Fast forward to today and you are spoilt for choice with the range of Hypercars on offer but can any of them match or better the brutal performance of the reigning king?
In normal circumstance you would require the recently departed TopGear or perhaps /DRIVE YouTube channel to find out if there is such a production car out there. Thankfully "normal" isn't a word that exists in the vocabulary of the UK based events company Vmax200. You may remember we featured their last event, Stealth, which had some of the latest high performance cars available today. Last week Vmax200 hosted their flagship themed event named Hypermax. As the name would suggest, this is no ordinary car event.
Located at a disused runway, the drivers have the chance to open their cars full potential on a 1.8mile straight, with state of the art laser traps to capture their fastest top speed runs. With a real who's who of the Hyper and Supercar world in attendance, this was really going to be the mother of all showdowns. Thankfully this time the British weather held out, with a dry track there could be no excuses, no doubts and no holding back.
As we arrive there are a good number of cars already there, two Porsche 918's a Noble M600 and a range of tuned Porsche's from Nine Excellence (9e). We catch up with a few friendly faces and while the drivers received their safety briefing we take a walk around to check out the other cars in attendance. Bugatti Veyron, LaFerrari, Lexus LFA, 2 TT Gallardo's, Ford GT Heritage Edition, Koenigsegg Agera, Pagani Zonda, McLaren SLR 722 and a good number of Lamborghini and Ferrari.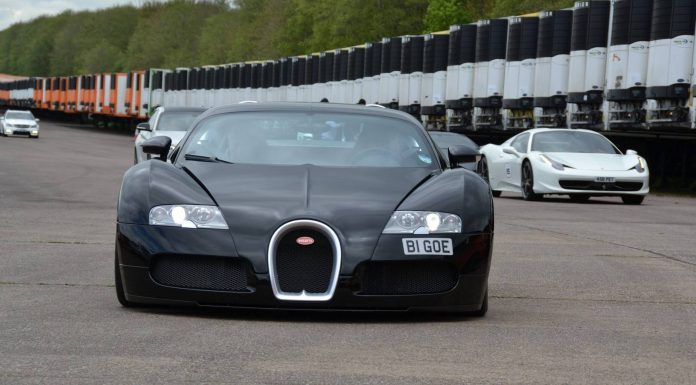 Possible the most eagerly awaiting entry of the day was the Koenigsegg One:1, a 1340bhp monster with a projected top speed of 273mph. Quite simply this is one of the greatest car events we have ever been to. Today was going to be a great day.
With the drivers fully briefed and perfect weather conditions, the event was underway. After a few practice runs the drivers were beginning to open the taps a little more to get a feel of how their cars were performing. Some tweaks here and there and the top speeds starting climbing, the first car of the day to break 200mph was a black Porsche 918 at 203mph and with the fastest 0-60 of the day too, at an almost unbelievable 2.2sec ! A true new generation Hypercar.
With the mornings racing hotting up we see a couple rivals go head to head. The 2 TT Gallardo's. One from Underground racing, the other from Heffner Performance, this is going to be a good fight. Both cars equally matched with over 1000bhp. As they tear off into the horizon we hear the speeds come through, UGR 219mph, Heffner 203mph.
Amidst the roars of V8s, the howls of V10s and the high pitch screams of V12s we see the current champion heading toward the start line, the Veyron, this however is no ordinary Veyron, as the owner wanted more performance for this already mind blowing car. This Veyron is running 1300bhp. After a few test runs he goes all out and manages an incredible 225mph. Surely nobody else her can top that.
However the One:1 is yet to take on the runway. Play time is over and everyone waits with bated breath. A clear runway ahead of them and the One:1 looking like a EuroFighter ready for take-off, the driver buries the throttle leaving behind him an impressive scorched tyre eleven. Soon afterwards we hear.. 225mph. The One:1 has matched the Veyron.
It has to be noted that on the day the team behind the One:1 were unable to find the correct E85 fuel to run at full power and were down by 200+bhp. After a long and enjoyable day, we set off home after experiencing what can only be described as a petrolheads heaven.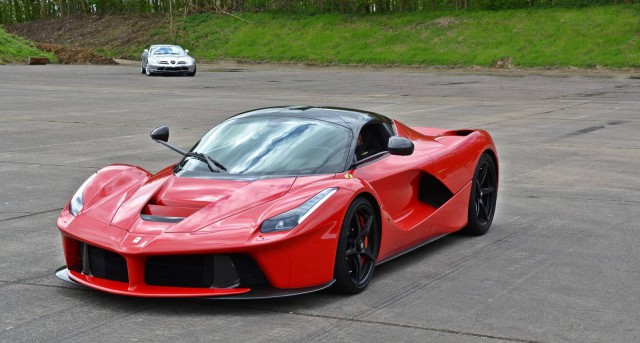 Here's a breakdown of the cars to break 200mph on the day :
Bugatti Veyron – 225mph
Koenigsegg One:1 – 225mph
UGR Gallardo – 219mph
Koenigsegg Agera – 214mph
LaFerrari – 209mph
Porsche 918 – 209mph
Porsche 911 9E28 – 205mph
Lamborghini Aventador (white)– 204mph
Noble M600 – 203mph
Lamborghini Aventador (red)– 203mpg
Heffner Gallardo – 203mph
McLaren SLR722 – 200mph
Porsche 997 Turbo – 200mph
If you think you have what it takes to knock these kings off of the top spot, then get in contact with Vmax200 and sign up to their next event.