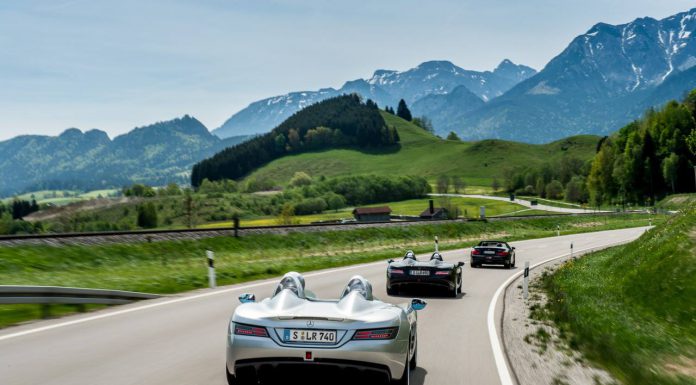 Mille Miglia 2015 is here and we are pleased to bring you our official Mille Miglia 2015 Live Blog with all the latest updates, photos and videos from our team embedded with Mercedes-Benz in this years event and our photographers at the various checkpoints. Access the complete Day 1 coverage and Day 2 Coverage here!
We will update this live blog as it happens but make sure to also follow our social media updates on Twitter, Instagram, Google + and Facebook for more Mille Miglia 2015 and exclusive behind the scenes updates!
Impressions from Day 3 Mille Miglia 2015
http://www.youtube.com/watch?v=eBZRStO6IpI
Mille Miglia 2015 Route
Just like the original Mille Miglia, the tribute starts in Brescia and goes via Rome back to Brescia. In total the 2015 route is a bit over 1,000 miles. More information can be found in the detailed route.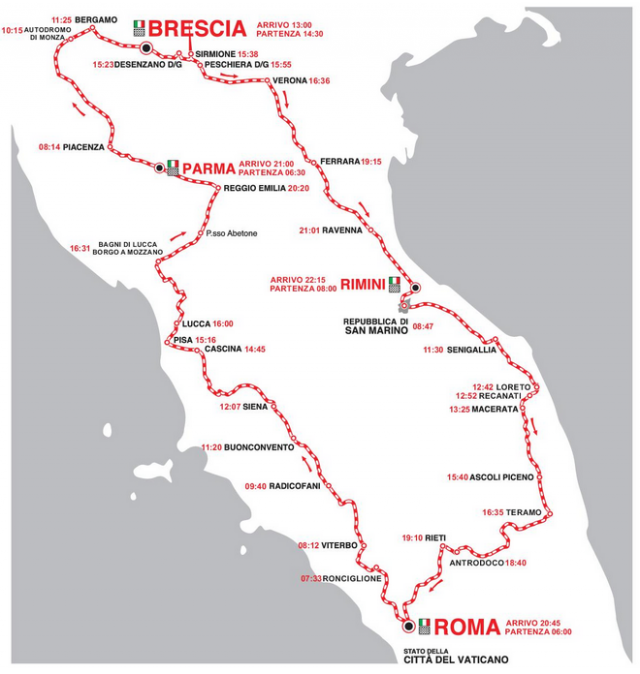 Mille Miglia 2015 Participants, Cars & Teams
Over 440 teams from over 40 countries take part in the Mille Miglia 2015 tribute. Eligible cars include only brands and models that took part during the original Mille Miglia between 1927 and 1957. Mercedes-Benz is the most dominant brand this year with over 70 Mercedes-Benz models taking part, most of them 300 SL models. For more information and all participant names and cars visit the Mille Miglia 2015 participant list.
Some of our highlights include the Bugatti Type 35B, Jaguar D-Type, Ferrari 340 America Berlinetta Vignale and of course the Mercedes-Benz 300 SLR that is promised to make various guest appearances at several checkpoints with Sir Stirling Moss behind the wheel! Generally all major manufacturers are represented in this momentous event.
So far we have driven from Brescia to Rimini marking the end of Day 1, yesterday we drove from Rimini to Rome where we start today and head over to Parma – a city in Emilia-Romagna famous for its Cheese, we are looking forward to the Pizza!
Mille Miglia 2015 Day 3 Live Blog
Update: Saturday May 16 – 11:35 pm
As we close this Live Blog, we would like to leave you with these photos from Parma city where we were received by huge crowds of people cheering us along the streets. We shared several videos on Instagram including one of Josh Cartu amusing the crowd with his Ferrari 458 Speciale Aperta. There is more to see than what we can write here, but you haven't missed a thing!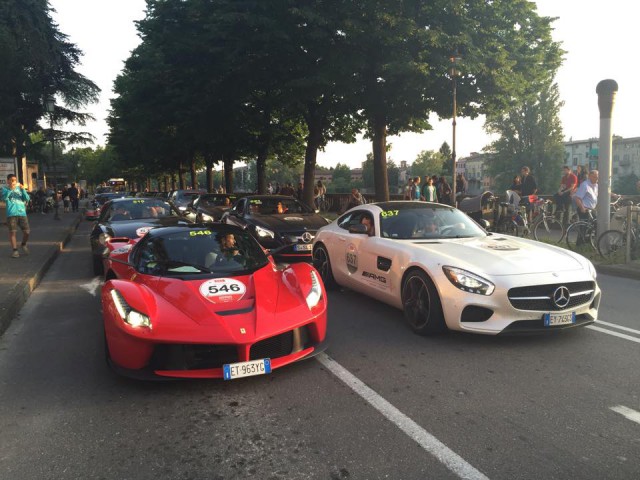 We have to be up by 3:30 am tomorrow and leave by 5:30 am. Other than the designated route from Parma to Brescia, we shall stop at the Monza circuit for some track action- yes, that should be really fun!
Quote of the day: The head of a checkpoint somewhere in Northern Tuscay pointed to the crowds and said to us with a typical Italian accent: "Theey wante you to give the gas!" … there and then our gas tank was topped up, the crowd cheered as we embarked on the drive!
Update: Saturday May 16 – 7:35 pm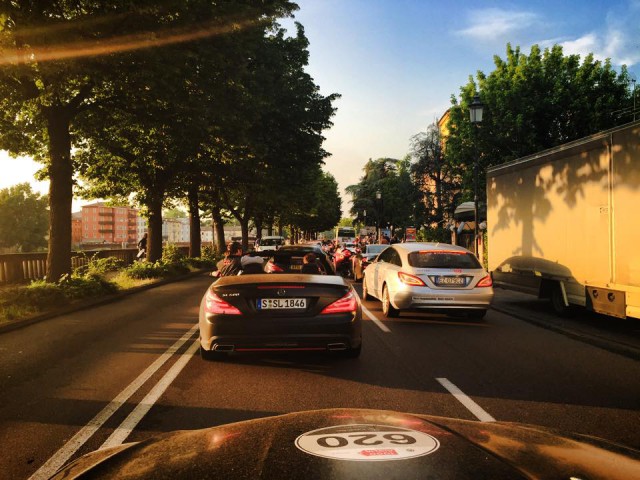 We have arrived in Parma! Quite earlier than the expected time of 20:18 pm meaning we have to wait a little bit before checking in at the last sector. Meanwhile, all the cars will stay overnight at Piazza della Pilotta in the city center of Parma. We will have dinner in the city then proceed to the shuttles which will take us to our respective hotels. Tomorrow we shuttle back to the city, pick our cars and drive the final leg to Brescia!
Update: Saturday May 16 – 7:14 pm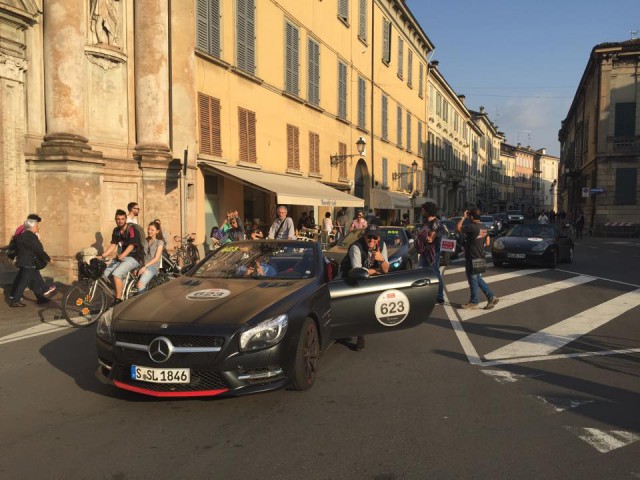 We have arrived in Reggio Emilia – a city located in the larger Emilio-Romagna, the Supercar Valley that is home to Ferrari, Maserati and Lamborghini. In the last 50 km we have passed dozens of fans located on bridges and roundabouts all eager to see the Mille Miglia 2015 convoy. There is still no sign of Ferrari here, they are really going fast today!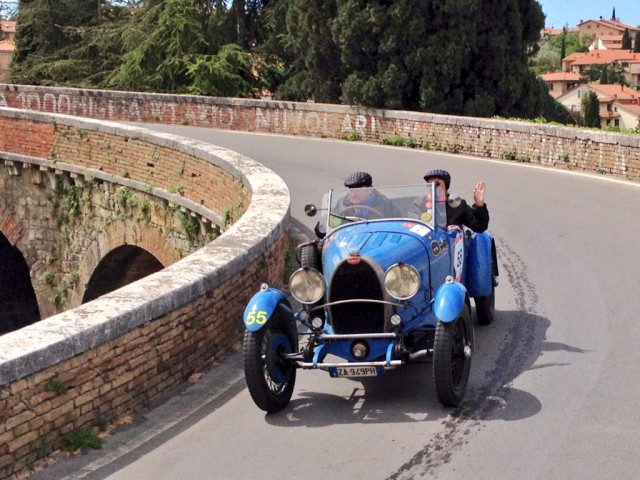 Let's also look at what the teams and fans are posting on social media. The following photos were posted by Silvia Casali (@adartee) on Twitter, we have one photo of Team Ferrari upon arriving in Reggio Emilia posted by Matteo Fortelli (@MFortelli) and several others posted by bt014 (@WeWbt014) including one of the only Donkervoort D8 GTO in the rally.
Several other photos were posted by (@nautass), (@rondyne), gbpix (@gbpix), Polizia Municipale (@PMdelFrignano), Richard Kaye (@Richardkaye1), Andrea Sasso (@aesse65) and V. Piero Labriola (@v_pier).
Update: Saturday May 16 – 6:14 pm
We just passed Maranello, home to Ferrari! We have another 70 km to the finish line in Parma, and we hope they have stored for us the best pizza possible as we are dangerously hungry!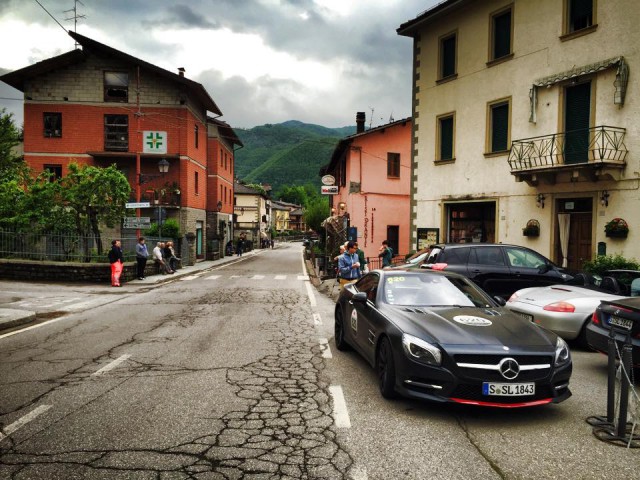 Update: Saturday May 16 – 3:29 pm
We just finished having lunch in Lucca together with the Mercedes-Benz Mille Miglia Tribute team, we are now back on the road again. The Ferrari team is ahead of us today at every stop probably because we are taking it a little easy. The weather is great and the scenery is bewildering so no hurry as long as we make it to the checkpoints in time!
We have about 200 km left till our last checkpoint in Parma, we are supposed to arrive there at around 20:18 pm.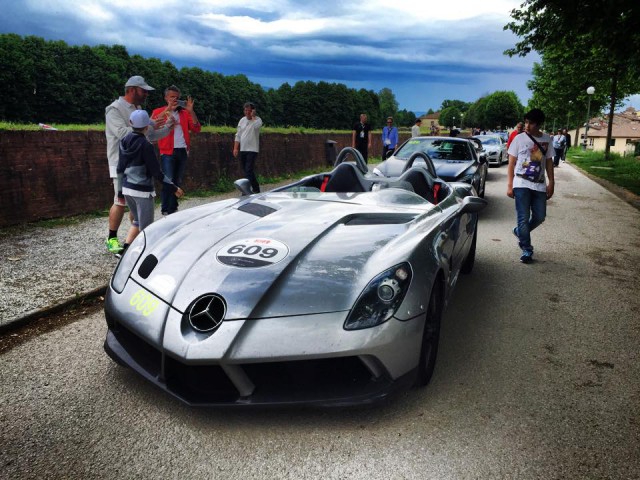 Update: Saturday May 16 – 2:32 pm
We have passed Pisa and now driving through Lucca, we never had a chance to stop at Pisa as there was no actual checkpoint. Moving forward, let's look at what the field looks like behind us by featuring photos from various teams. From Team Jaguar is Luca Berera (@_BerLu) on Twitter who shared photos prior to their arrival in Siena. Speaking of Jaguar, their newest baby -the XE – also in the rally!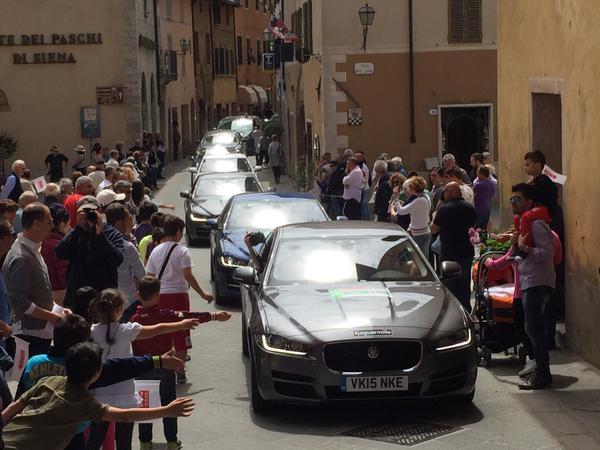 Richard Agnew (@theragers) on Twitter posted the yellow Bugatti photo which is part of the Mille Miglia 2015 too. Salvatore Cunsolo (@SalvoCunsolo) posted the red Ferrari 458 Speciale Aperta as the Ferrari tribute team arrived in Pisa (they are actually ahead of us!). The GREAT Britain (@GREATBritain) account posted a very nice photo of the Bentley team from Rimini too and lastly is a photo from Pisa by MassimilianoGhimenti (@Massi_Ghimenti).
Update: Saturday May 16 – 1:32 pm
We have come to the end of Sector 2 at the Cascina checkpoint, as we leave the town everybody is waving and cheering at us. This has been one of the warmest towns so far in terms of crowds, now we drive another 41 km to Lucca passing through Pisa.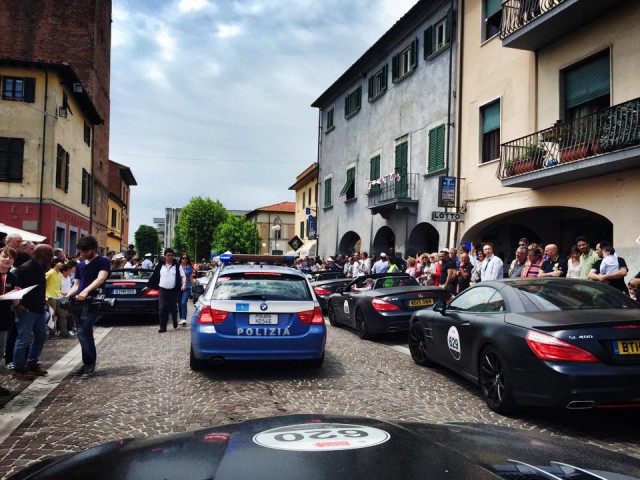 Update: Saturday May 16 – 12:05 pm
Some random photos from the road, we are near Castelfiorentino – a small town in the Province of Florence, it has only 20,000 people. As you can see, the weather is quite open today as compared to yesterday, we are even driving topless!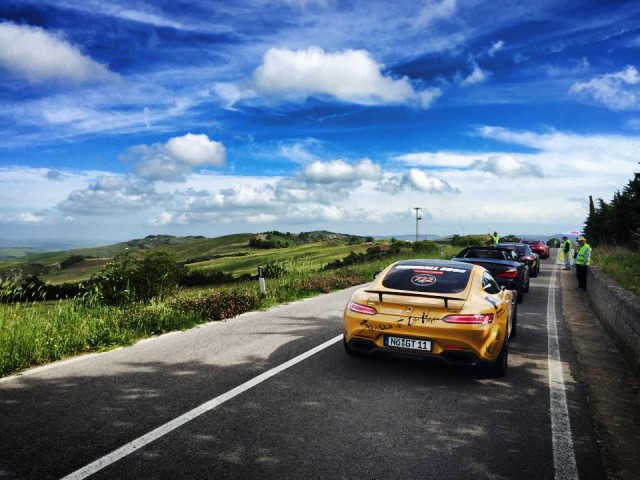 Update: Saturday May 16 – 11:55 am
We are in Sienna now! Today we are taking it a bit easier than yesterday and are handing out Mille Miglia flags to fans on the side of the road!
Update: Saturday May 16 – 10:25 am
Bicester Heritage from UK are reporting a cracked fuel tank in one of their cars but the support team is already working on it.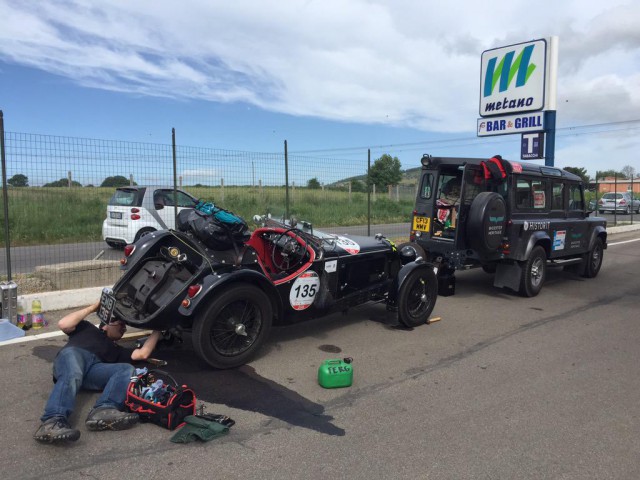 Update: Saturday May 16 – 09:10 am
A few highlights from the teams behind us including photos from yesterday. Stirling Moss continues to lead the Mercedes-Benz classic team with the 300 SLR "722" alongside Williams F1 Susie Wolff. BMW Classic completed Day 2 and are now on to Day 3 where they expect to be in Siena by midday. Jaguar Mille team has its fair share of fun with the likes of Example, James Martin in the D-type, Jodie Kidd and David Gandy in the XK120 and the team of Ian Callum and Clive Beecham in another sensational D-Type.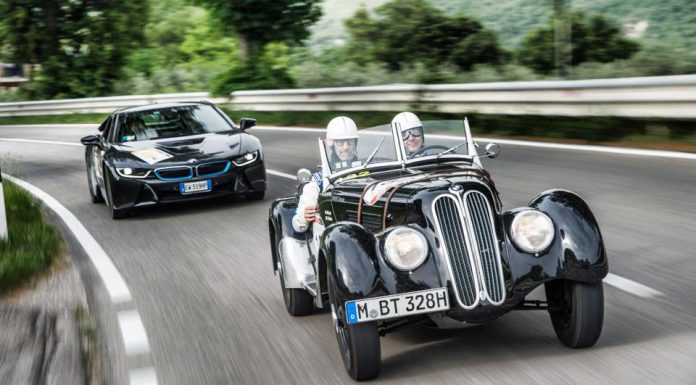 Other known names include Cesare Fiorio piloting a Lancia Aurelia B20, Alfa Romeo lit the podium stage last night with their red cars and beautiful models too!
Update: Saturday May 16 – 08:51 am
We are now in Radicofani, the next sector is 199 km away with our arrival time set at 13:15 pm. One of the photos below is from a small stopover we made a few miles back before we checked into the previous sector. The thing is one is allowed to pass the checkpoints at any time, but you cannot arrive at the sectors earlier or later than the given time, you have to be exact or risk being penalized. To avoid these penalties, we buy more time by making short stops prior to the sector and move in a few minutes to the set time.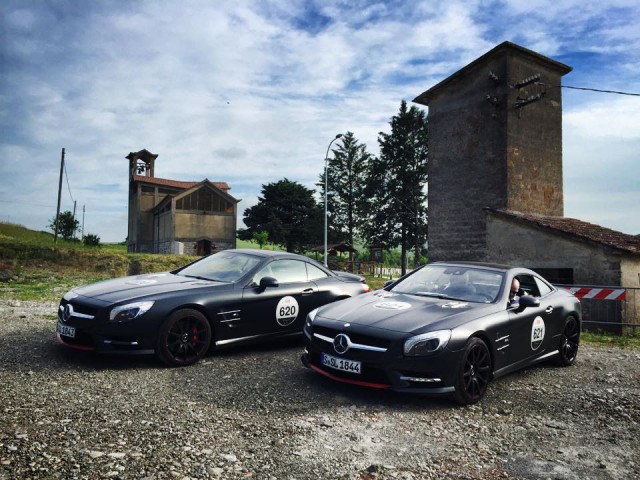 Update: Saturday May 16 – 07:41 am
Good Morning and welcome to the Mille Miglia 2015 Day 3 Live Blog, we woke up quite early today. We were up by 4 am ready to drive to Parma, by 5 am we had already flashed across our first checkpoint. So far we have done 145 km and the light of day has just began to usher in. Today's route from Rome to Parma involves a driving distance of 602 km. Stay with us for more updates and keep checking our social media channels as well!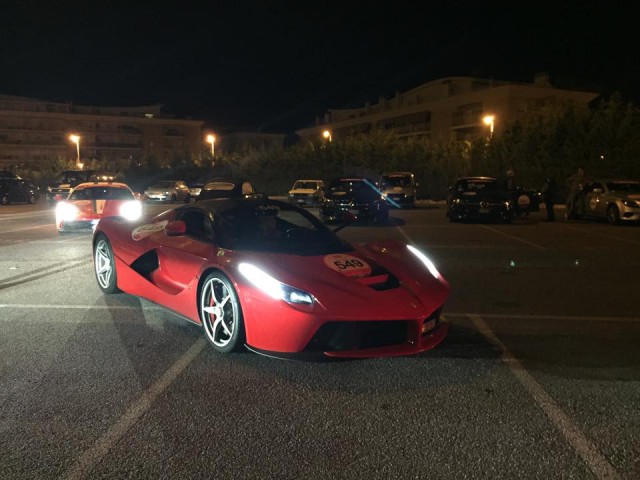 A few photos from the SLR Club journal, they are not new to making awesome memories through road trips!