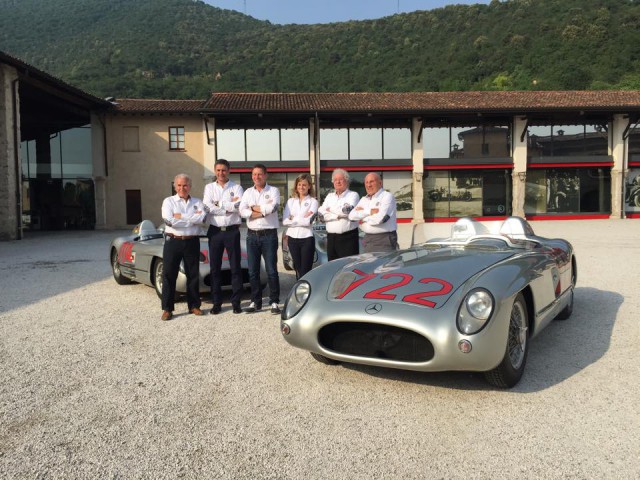 Mille Miglia 2015 is here and we are pleased to bring you our official Mille Miglia 2015 Live Blog with all the latest updates, photos and videos from our team embedded with Mercedes-Benz in this years event and our photographers at the various checkpoints.
We will update this live blog as it happens but make sure to also follow our social media updates on Twitter, Instagram, Google + and Facebook for more Mille Miglia 2015 and exclusive behind the scenes updates!
Impressions from Day 1 Mille Miglia 2015
http://www.youtube.com/watch?v=fSjlPs-gKrs
Mille Miglia 2015 Route
Just like the original Mille Miglia, the tribute starts in Brescia and goes via Rome back to Brescia. In total the 2015 route is a bit over 1,000 miles. More information can be found in the detailed route.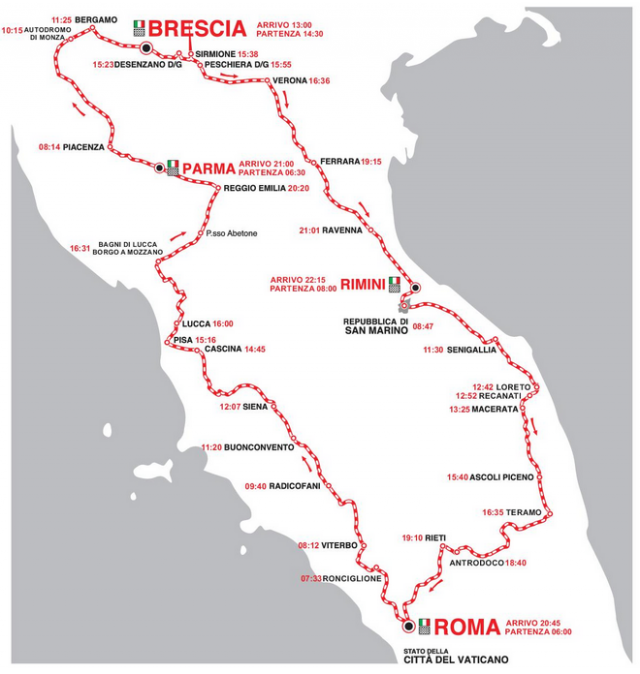 Mille Miglia 2015 Participants, Cars & Teams
Over 440 teams from over 40 countries take part in the Mille Miglia 2015 tribute. Eligible cars include only brands and models that took part during the original Mille Miglia between 1927 and 1957. Mercedes-Benz is the most dominant brand this year with over 70 Mercedes-Benz models taking part, most of them 300 SL models. For more information and all participant names and cars visit the Mille Miglia 2015 participant list.
Some of our highlights include the Bugatti Type 35B, Jaguar D-Type, Ferrari 340 America Berlinetta Vignale and of course the Mercedes-Benz 300 SLR that is promised to make various guest appearances at several checkpoints with Sir Stirling Moss behind the wheel!
Watch Day 1 Mille Miglia 2015 Highlights from Mercedes-Benz Tribute team.
http://www.youtube.com/watch?v=GWpVaB4u4ws
Mille Miglia 2015 Live Blog
Update: Thursday May 14 – 9:15 pm
Day one ends here at our last checkpoint in San Marino, this road leads to a castle where the checkpoint is located. We have now come to an end of this Live Blog after a thrilling day of driving and sharing memories together. Thanks for reading everybody we are back tomorrow with Live Blog 2 and make sure you follow us on Twitter, Facebook and Instagram for more!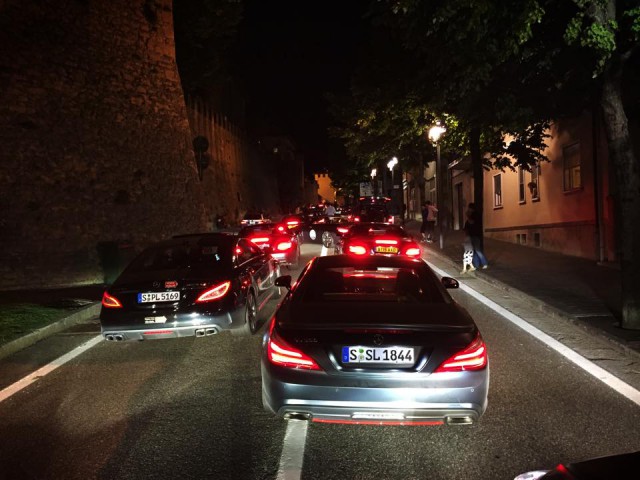 A video by Mercedes-AMG showing some highlights from Mille Miglia 2015 Day 1
Update: Thursday May 14 – 8:52 pm
We have finally arrived in Rimini at our second last checkpoint for the day after covering a distance of 280 km in a duration of 6 hours and 15 min. From this point we shall proceed to our last checkpoint in San Marino and thereafter an extra 30 km for dinner at Hotel Ambasciatori in Riccione.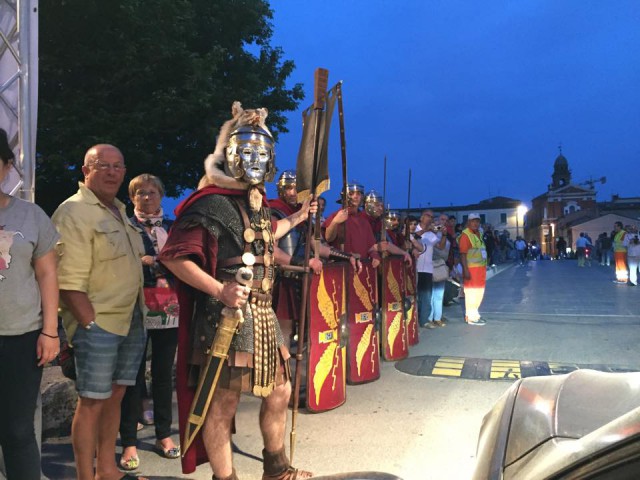 Update: Thursday May 14 – 8:07 pm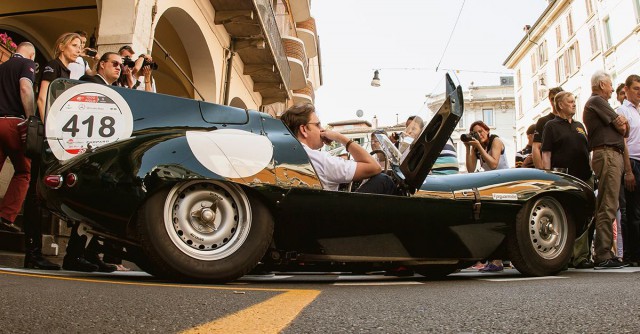 Elsewhere in the rally, Team Jaguar is armed with well-known members including David Gandy, Jodie Kidd, James Martin, Example, Charlie Boorman and Ian Callum. The team is piloting nine select iconic Jaguar models comprising of the D-Type and XK 120 models. Here are a few photos reflecting their Day 1 of the Rally in Brescia Italy.
Update: Thursday May 14 – 7:56 pm
We have arrived in Ravenna where another checkpoint awaits.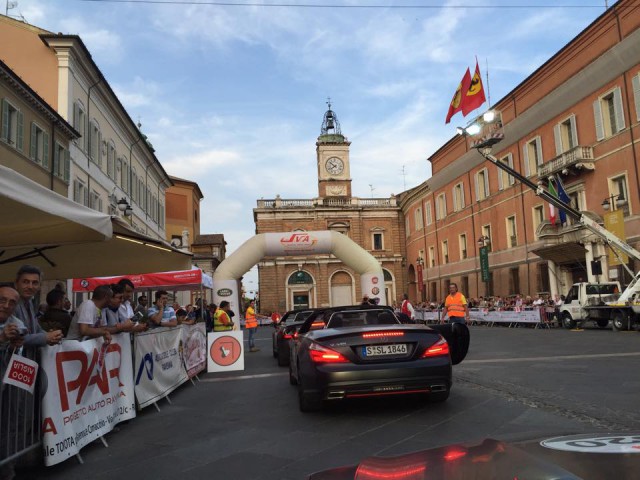 Update: Thursday May 14 – 6:47 pm
We have just completed a parade lap at Ferrara town square. We are now off to our final checkpoint for the day in San Marino where we will proceed for dinner at the Hotel Corallo in Riccione, an extra 30 km from the checkpoint.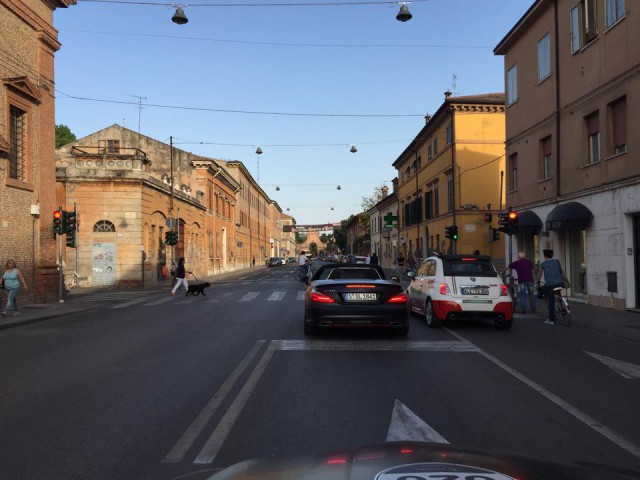 Update: Thursday May 14 – 6:17 pm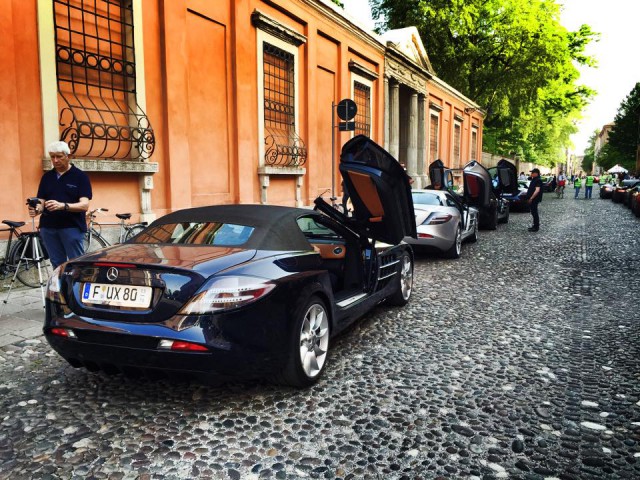 We have arrived in Ferrara, there is a small traffic jam going into the checkpoint and while stuck in it we magically found the button for the massage seats!
Update: Thursday May 14 – 5:17 pm
We are now 40 km away from our second checkpoint in Ferrara. As you can see, the SLR Club loves sticking together; we are in a group of about 15 to 20 cars at the moment.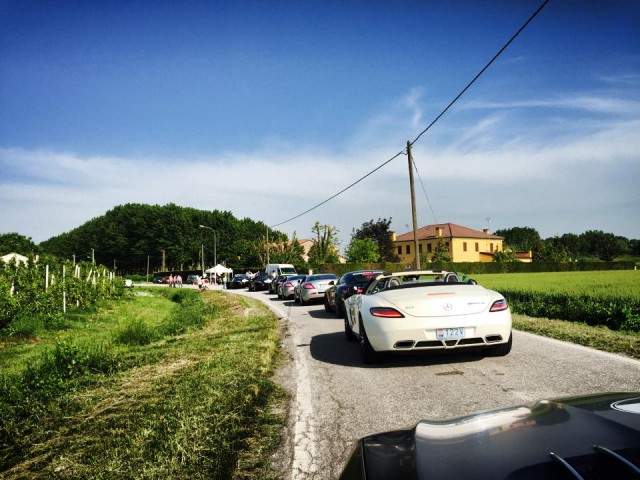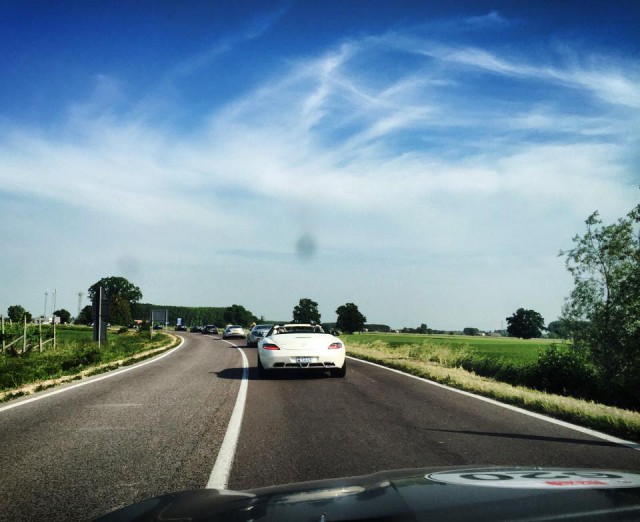 Update: Thursday May 14 – 4:28 pm
Alfa Romeo has brought several of its winning cars to this year's event. Remember, Alfa Romeo holds the highest number of wins in Mille Miglia history mostly because the event was dominated by Italians in its early days. Highlighting this year's Alfa Romeo lineup is the 1900 Sport Spider (1954) and the 750 Competizione (1955).
Update: Thursday May 14 – 4:05 pm
We just drove across the Verona checkpoint which means we have covered 46 kilometers so far with 110 km more to the next checkpoint in Ferrara.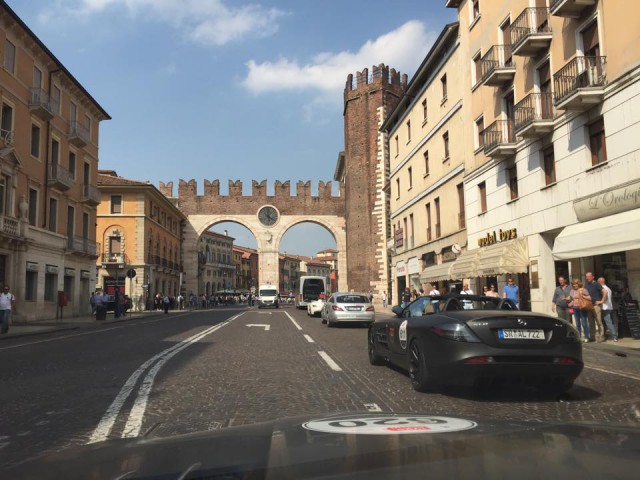 Update: Thursday May 14 – 3:55 pm
Arriving in Verona, people are everywhere as the police waves us through the red lights! We are loving this! We just caught up with the #611 SLR McLaren, the white Stirling Moss is also in front of us.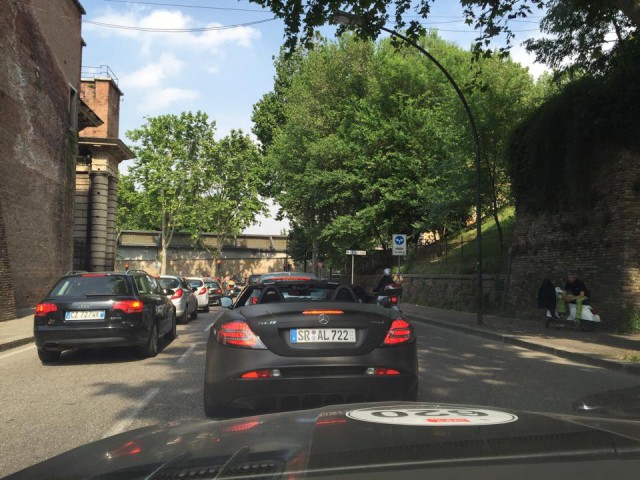 Update: Thursday May 14 – 2:33 pm
And off we go! Next stop is Rimimi…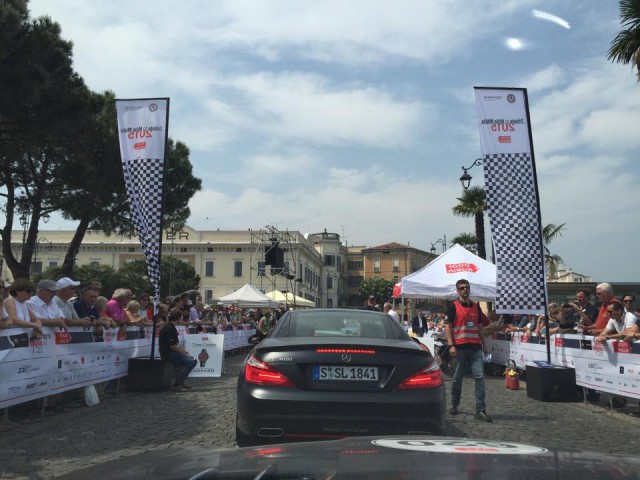 Update: Thursday May 14 – 2:28 pm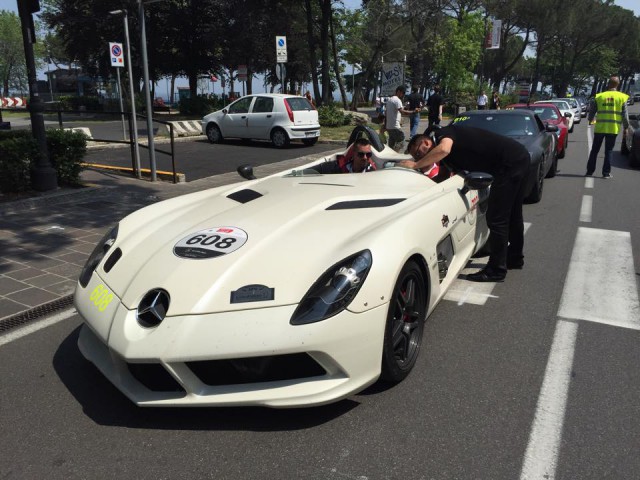 The Mercedes-Benz Mille Miglia Tribute is about to begin too, cars are now lining up ready to flash across the starting line. As a reminder, we are in the #620 Mercedes-Benz SL 417 Mille Miglia Edition; we are joined by the SLR Club who have both SLR McLaren's and SLR Stirling Moss cars. Below are select photos from the pit lanes and start line.
Update: Thursday May 14 – 2:01 pm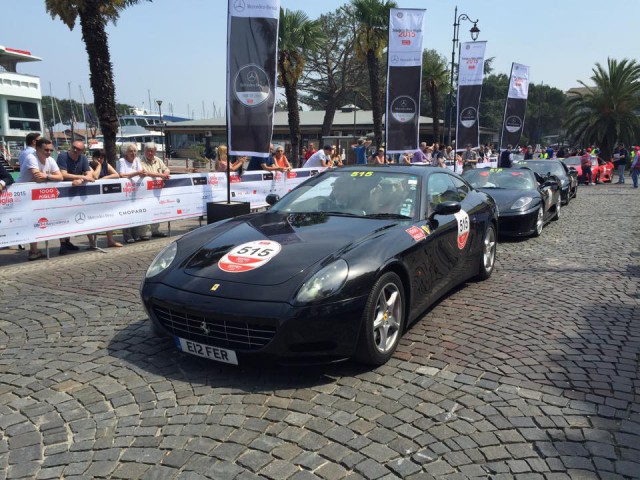 It's a go! The Ferrari's have started rolling across the start line. We will be doing the same in T minus 40 minutes.
Update: Thursday May 14 – 1:58 pm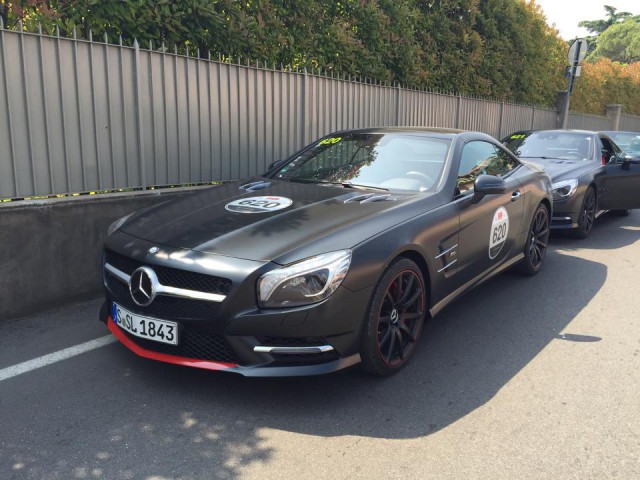 Anticipation is rising! Our start time has been delayed a bit, the Ferrari tribute cars are now starting at 13:45, followed by the first Mercedes-Benz Tribute cars at 14:20. The first #MBmille cars are those of the SLR Club starting with a 300 SL Roadster with start number 600 followed by various SLRs and SLR Stirling Moss models.
We will pass the start line on the shores of beautiful Lake Garda in Desenzano around 14:40. The first drive to San Marino is around 340 kilometers and will take around 6-7 hours if all goes well! The detailed route can be found in the link above.
Update: Thursday May 14 – 1:18 pm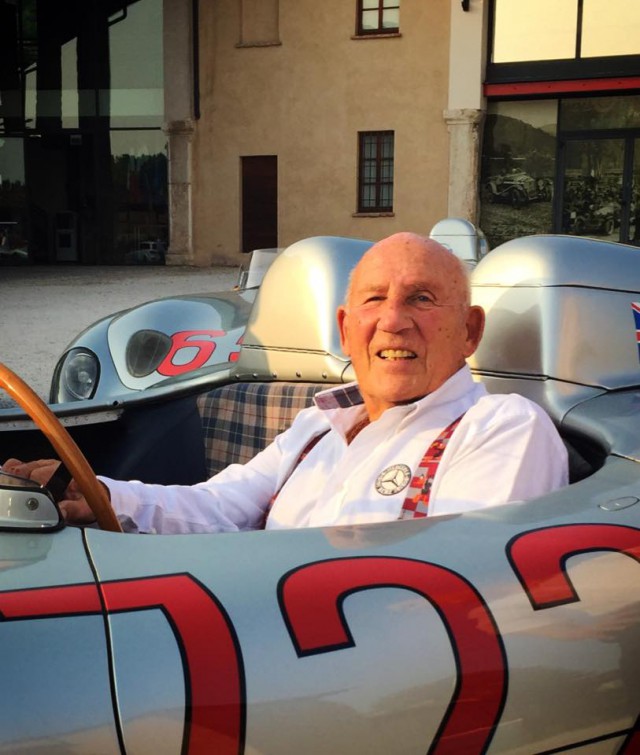 Sir Stirling Moss and the 300 SLR have been confirmed to drive from the start in Brescia to the town of Sirmione! First the 300 SLR was supposed to be trailered there due to its incredible value but MB Classic gave the green light to drive the first leg.
Sir Tribute Video to Stirling Moss and the Mercedes-Benz 300 SLR
Update: Thursday May 14 – 1:14 pm
First LaFerrari of the day, its part of the Ferrari Mille Miglia Tribute team.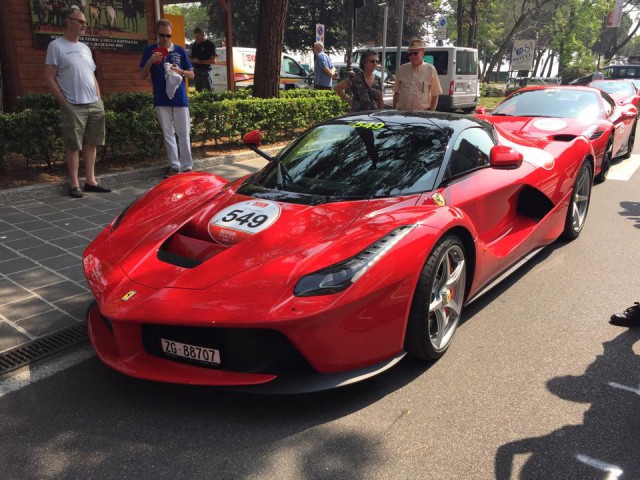 Update: Thursday May 14 – 12:28 pm
We have four road books like the one shown below. One book for each day with instructions, route and helpful information. The instruction diagrams are called "tulips" in rally language because the junctions look like flowers! We are intimidated by the complex maps but confident that will shall make it through just fine.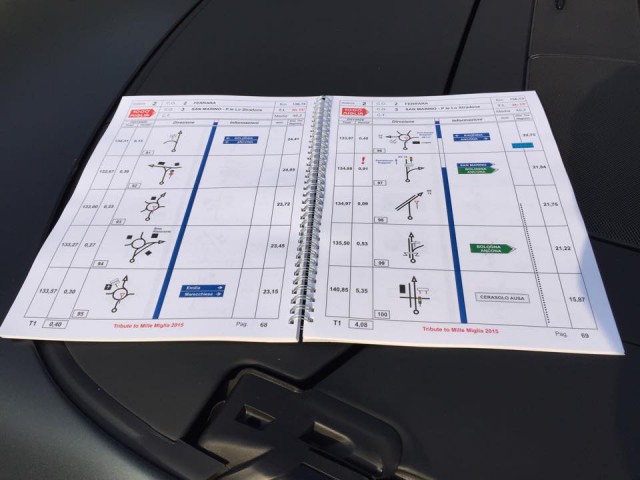 Update: Thursday May 14 – 11:50 am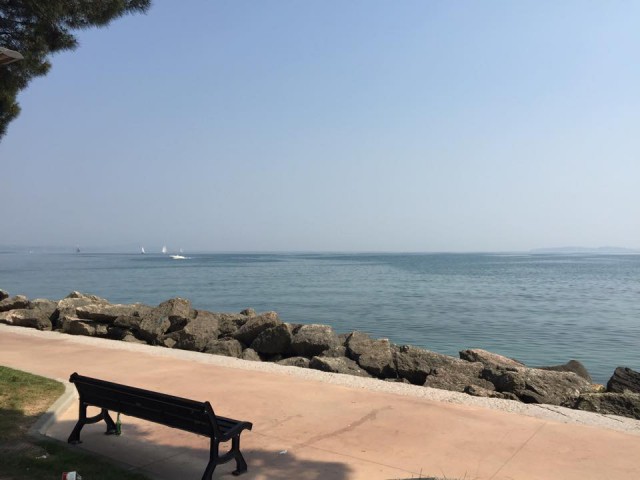 We have arrived in Desenzano where members of both the Mercedes-Benz Mille Miglia Tribute and Ferrari Mille Miglia tribute are gathered. Our car number is #620.
Below are live photos of the Ferrari Mille Miglia Tribute team.
Update: Thursday May 14 – 11:47 am
We left Brescia and headed to our 'head-start' location in Desenzano. Below is a photo of the ramp and start line for the classic cars. They will begin rolling out at 1:00 pm.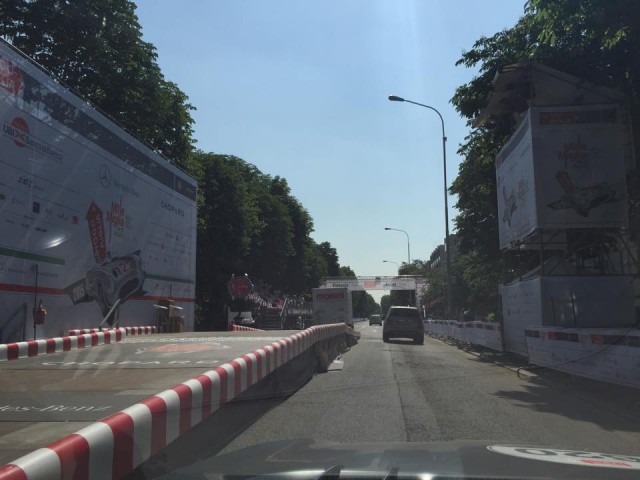 Update: Thursday May 14 – 10:10 am
The classic cars are now gathered at the center of Brescia till the race kicks off this afternoon. This gives the public time to take photos and interact with the drivers. The modern cars from Ferrari and Mercedes-Benz will head over to Desenzano near Lake Garda in an hours time, they will start the race two hours ahead of the classic cars.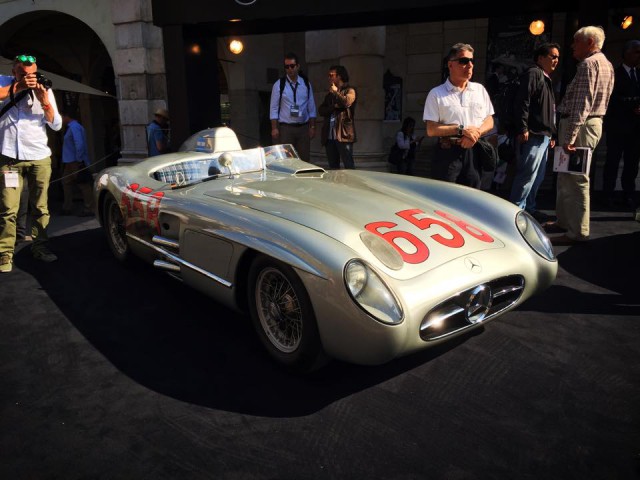 Update: Thursday May 14 – 08:14 am
We left the Villa Fenaroli Palaca Hotel with Mercedes-Benz Mille Miglia team including SLR team and headed for Brescia. There are more technical checks taking place in Brescia as well the distribution of car numbers. The press office is now open for accreditations and media relations. Below are a few images reflecting our activities since morning.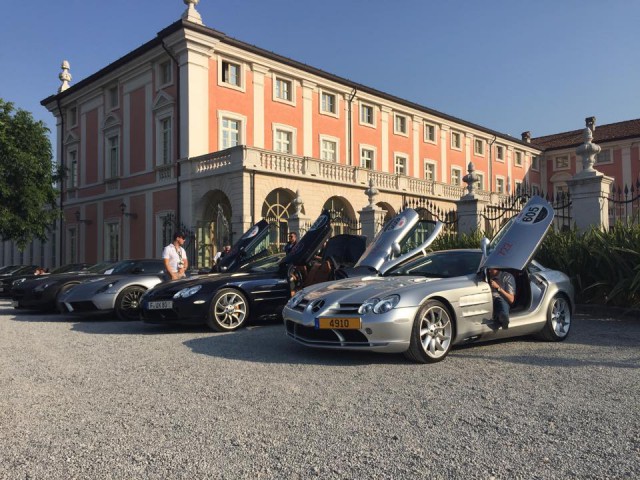 Update: Wednesday May 13 – 23:32
More behind the scenes images have been uploaded to the GTspirit Instagram!
Update: Wednesday May 13 – 22:32
This year Mercedes-Benz celebrates the 60th anniversary of the incredible victory of the 300 SLR with start number 722 in 1955. Not only did Sir Stirling Moss beat all other contenders, he also set a record that has never been beaten since. After 10 hours, 7 minutes and 48 seconds, Moss/Jenkinson arrived in Brescia in their Mercedes-Benz 300 SLR with the now famous #722, setting the event record at an average of 157.650 km/h which was fastest ever on this 1,597 km variant of the course, not to be beaten in the remaining two years.
Tonight Mercedes-Benz hosted the traditional pre-Mille Miglia dinner and not only did they have the three original 300 SLR models on display that took part in 1955, they also had two of the three drivers there: Sir Stirling Moss and Hans Hermann. Sadly Fangio is no longer with us to complete the picture.
After various photo ops and interviews all drivers and invited guests joined the Mercedes-Benz Classics team inside the Mille Miglia Museum for dinner. Stirling Moss received incredible applause after he was announced as one of this years Mercedes-Benz ambassadors in attendance. Along with him were Hans Hermann, Jochen Mass, Bernd Maylander, Karl Wendlinger and Susie Wolff among others.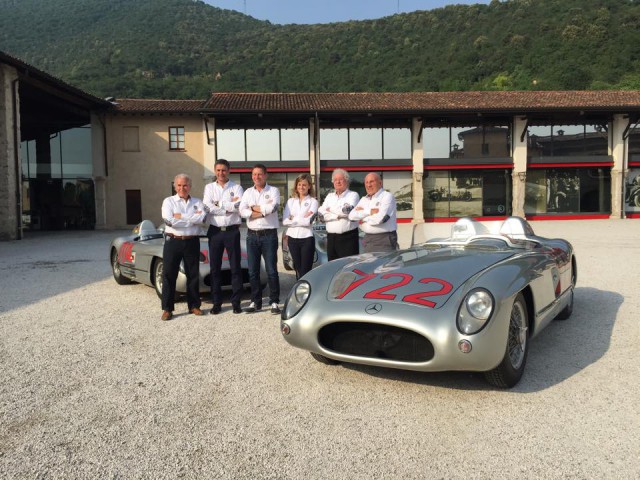 Update: Wednesday May 13 – 21:09
Quote of the day by motorsport legend Jochen Mass: 'Its not a race, its not a rally.. The Mille Miglia is something truly special'
Update: Wednesday May 13 – 15:22
Some photos of the pre-start day!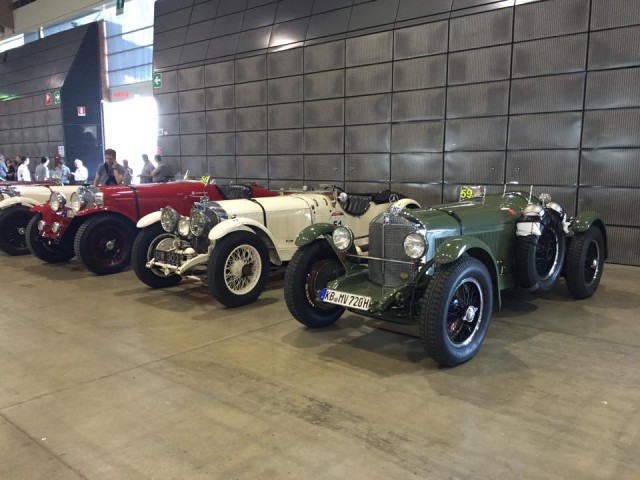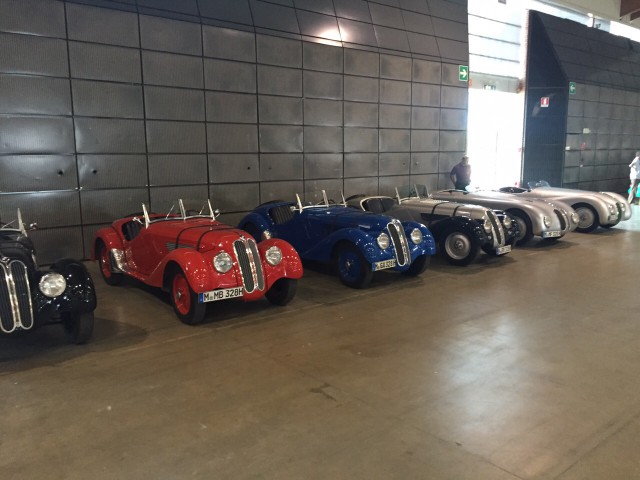 Update: Wednesday May 13 – 14:59
It is important to distinguish two parts of the Mille Miglia Tribute this year; the classic part – open only to cars from between 1927 and 1957 with 440+ participating cars – and the various modern tributes (Ferrari and Mercedes-Benz being the main ones) of cars between 1947 and 2015. The modern cars start ahead of the classics and follow a slightly different time schedule. From this moment on we will either refer to Mille Miglia Tribute meaning the classic cars and Mercedes-Benz Tribute referring to the modern cars we are driving with.
Our group also includes the SLR Club which sees a large number of SLR McLarens in attendance.
Update: Wednesday May 13 – 14:42
Welcome to the first live update from the Mille Miglia 2015! Today is all about registration and scrutineering – making sure the vehicles pass all checks and everything is ready to go for tomorrow. Scrutineering takes place in a large hall South of Brescia. As we arrive over 300 of the 440+ participating cars are present in the hall and it is a magnificent and literally breathtaking sight to see all these cars together.