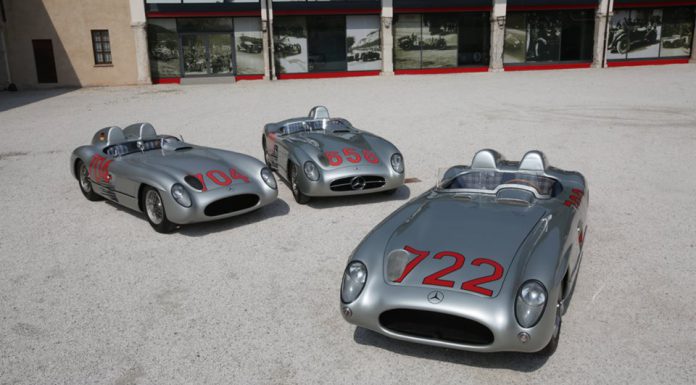 Mille Miglia 2015 is here and we are pleased to bring you our official Mille Miglia 2015 Live Blog with all the latest updates, photos and videos from our team embedded with Mercedes-Benz in this years event and our photographers at the various checkpoints. The complete Day 1 coverage can be found here.
We will update this live blog as it happens but make sure to also follow our social media updates on Twitter, Instagram, Google + and Facebook for more Mille Miglia 2015 and exclusive behind the scenes updates!
Mille Miglia 2015 Route
Just like the original Mille Miglia, the tribute starts in Brescia and goes via Rome back to Brescia. In total the 2015 route is a bit over 1,000 miles. More information can be found in the detailed route.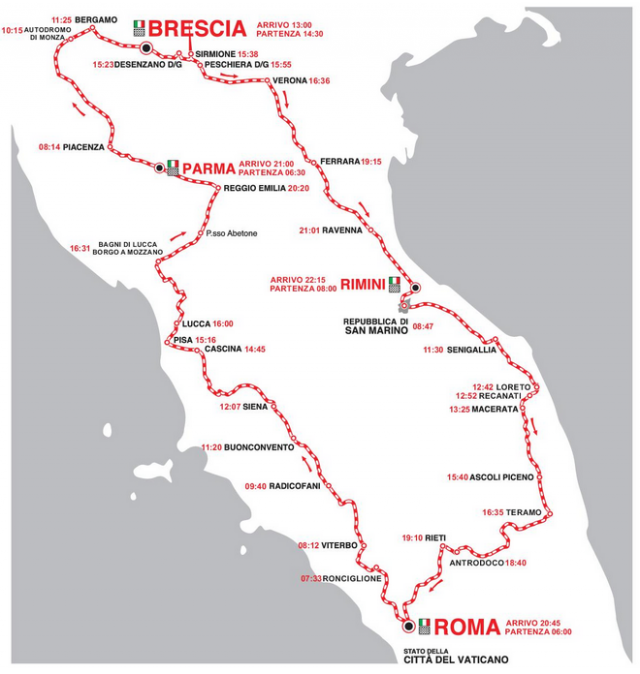 Mille Miglia 2015 Participants, Cars & Teams
Over 440 teams from over 40 countries take part in the Mille Miglia 2015 tribute. Eligible cars include only brands and models that took part during the original Mille Miglia between 1927 and 1957. Mercedes-Benz is the most dominant brand this year with over 70 Mercedes-Benz models taking part, most of them 300 SL models. For more information and all participant names and cars visit the Mille Miglia 2015 participant list.
Some of our highlights include the Bugatti Type 35B, Jaguar D-Type, Ferrari 340 America Berlinetta Vignale and of course the Mercedes-Benz 300 SLR that is promised to make various guest appearances at several checkpoints with Sir Stirling Moss behind the wheel!
So far we have driven from Brescia to Rimini marking the end of Day 1, today we start at Rimini and drive all the way to Rome. Stay with us!
Watch the Mille Miglia 2015 Day 2 Highlights featuring Mercedes-Benz Tribute team.
http://www.youtube.com/watch?v=8JiEnOUXE9k
Mille Miglia 2015 Day 2 Live Blog
Update: Friday May 15 – 9:55 pm
It's that time of the day again when we close the live blog and prepare for day 3 by getting some rest. It has really been great to have you all on board. Day 3 Live Blog starts tomorrow early in the morning as we embark on destination Parma, be sure to follow it once it goes live! Bye!
Update: Friday May 15 – 9:12 pm
The classic cars have began to arrive. You are now looking at live photos from the podium stage which marks their finishing line.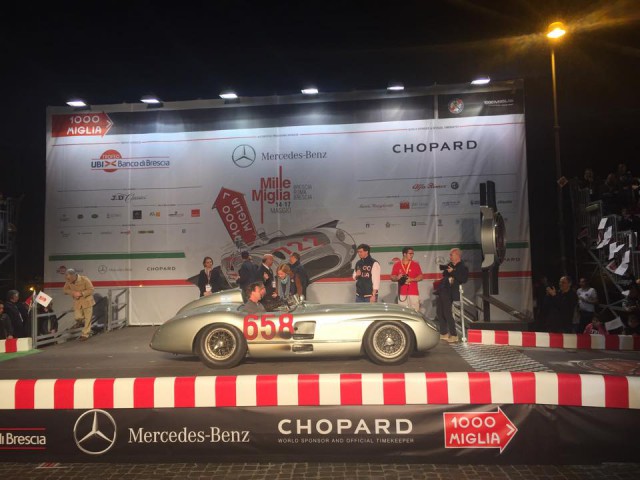 Update: Friday May 15 – 7:59 pm
We have finally arrived in Rome! Last checkpoint of the day at the Olympic Stadium. Now we parade into the city and proceed to Castel Sant'Angelo where we will wait for the classic cars to arrive!
Update: Friday May 15 – 7:20 pm
Mille Miglia is never complete without sheep on the road, we are yet to run into cows though!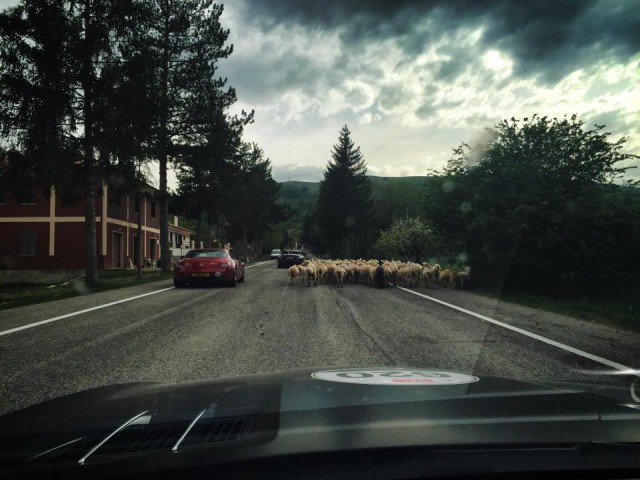 Update: Friday May 15 – 6:20 pm
We have finally arrived in Antrodoco! After this we only remain with 99 km to Rome where we are expected to arrive at 20:28 at the Olympic Stadium. Day 2 is almost over…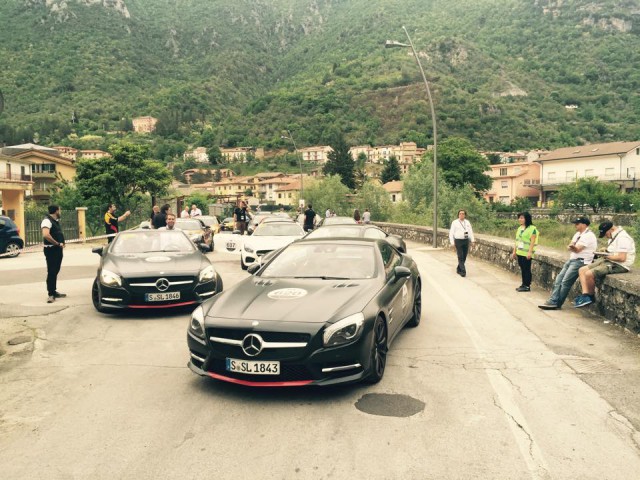 Update: Friday May 15 – 5:51 pm
A look at what the field looks behind us; BMW has armed itself with excellent models from the past including the oldest 3-Series you could think of. Mercedes-Benz continues to steal hearts away with the sensational trio of 300 SLRs. British Luxury watch company Bremont has its ambassador Charley Boorman in a Jaguar – part of the classic cars in the main race. Speaking of classic cars, most of them appear to have crossed the Ascoli Piceno checkpoint, the Gullwing's photo you see below was taken by Fabrizio Paoletti in Ascoli Piceno town.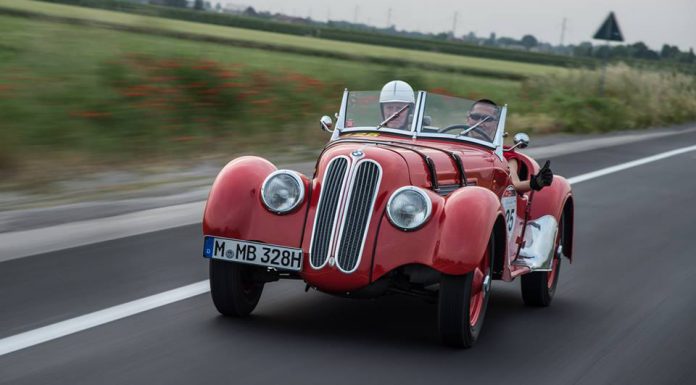 More photos of the classic car race were posted on Twitter by Martina (@pie_martina), Simone Paci (@Simo881), @Ruoteclassiche, and ViaggiareOvunque NCC (@codoni84).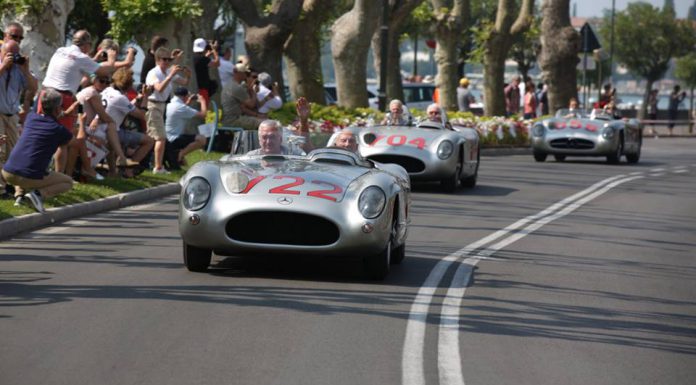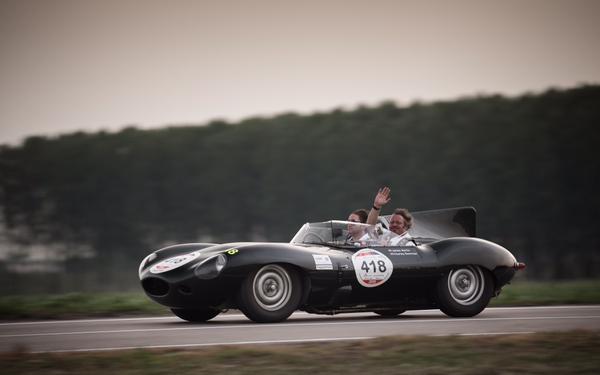 Update: Friday May 15 – 3:35 pm
We have now left Ascoli Piceno and will drive for the next 139 km to Antrodoco. From there we will drive another 2 hours to Rome Olympic Stadium where the finish of today's timed section is located. From there we continue into the center of Rome with a parade before proceeding to the Marriott Park Hotel for dinner and a short sleep.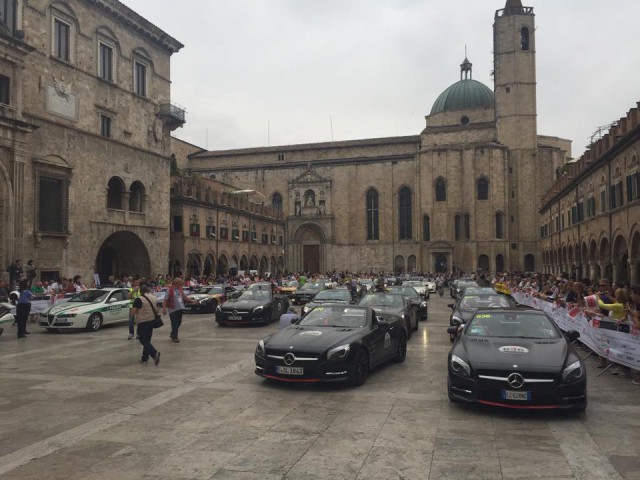 Update: Friday May 15 – 3:32 pm
Old meets new! Before we entered Ascoli Piceno town for lunch, we made a quick stop at a gas station just 10 km away from the town. Here we reunited a 1957 300 SL Convertible and our 2015 SL 500 Mille Miglia 417 Edition. Originally delivered to an Italian businessman in the United States this American spec 300 SL was brought back to Europe by its current owner 20 years ago!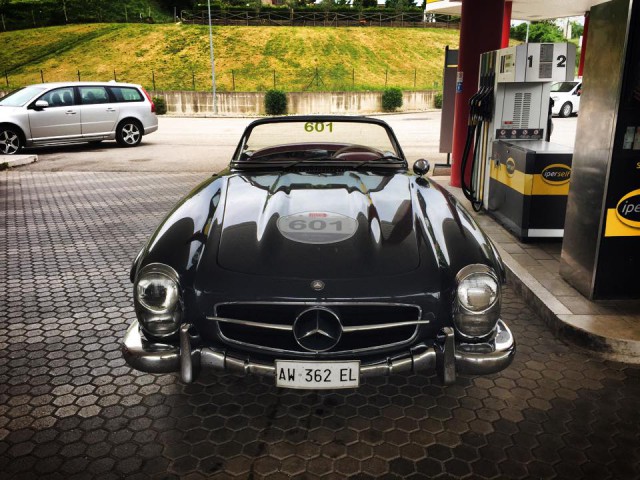 Update: Friday May 15 – 3:04 pm
And now photos from the Ferrari Mille Miglia Tribute team during the lunch break in Ascoli Piceno. Quite a number of both modern and classic Ferrari's are present here, with others taking part in the main race. The residents of Ascoli Piceno are really excited to see some of the new models such as the LaFerrari, for a region with a population of less than 200,000 people this is an amazing moment for them.
Update: Friday May 15 – 2:35 pm
We are now in Ascoli Piceno where we are having lunch at the B&B Piazza Del Popolo restaurant. It's a nice small town rich in Italian history. The surrounding mountains and rivers make it really beautiful, its amazing to see such an eccentric lineup of cars here. Ferrari team is also here but for now here are the photos of the Mercedes-Benz Mille Miglia Tribute team.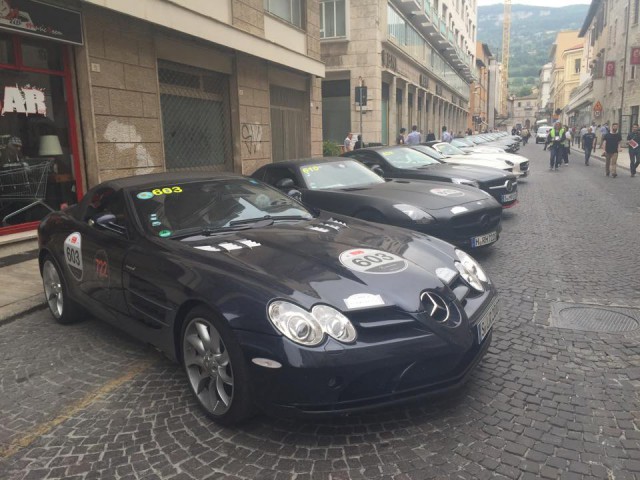 Update: Friday May 15 – 1:35 pm
Mountain roads…nothing beats mountain roads! We have just arrived at our third time trial of the day in Casale. With Madonna's latest Album "Rebel Heart" playing on the radio its safe to say that we're in the right mood!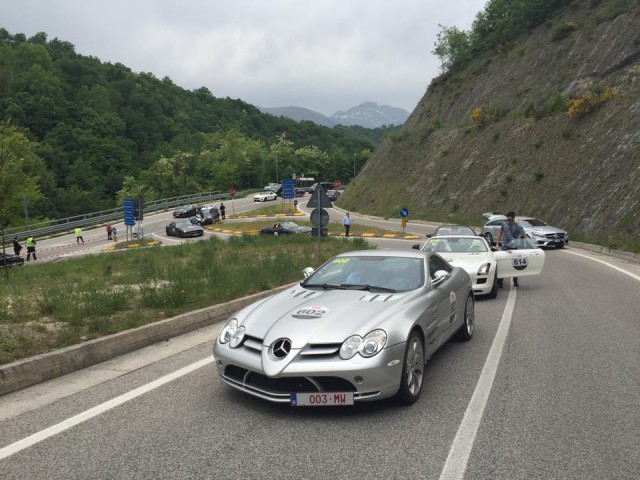 Update: Friday May 15 – 1:05 pm
The teams behind are slowly catching up with us; the photos below include highlights from Bicester Heritage who are with Bentley and Land Rover, Lancia Auto who made it across the Senigallia checkpoint and more. The Ferrari Tribute team is a few minutes ahead of us with their convoy of horses which includes the LaFerrari. Mercedes-AMG F1 is in the race with their final destination set for Monaco Grand Prix. They are joined by Williams F1 driver Susie Wolff in the #658 Mercedes-Benz 300 SLR, Hans Hermann and more.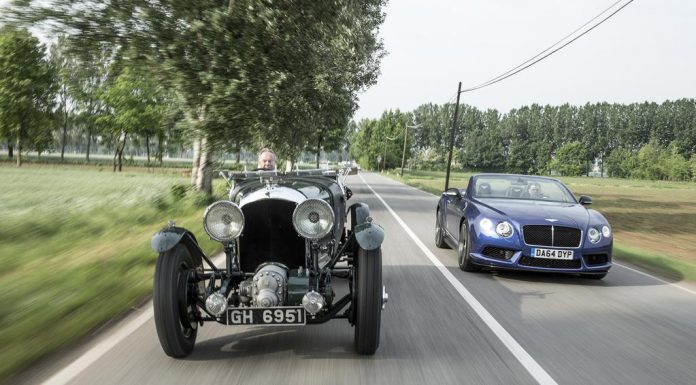 Update: Friday May 15 – 12:35 pm
Just outside Macerata where the police regrouped us at a petrol station to escort the entire group once. Promising weather ahead? Well, we have to wait and see.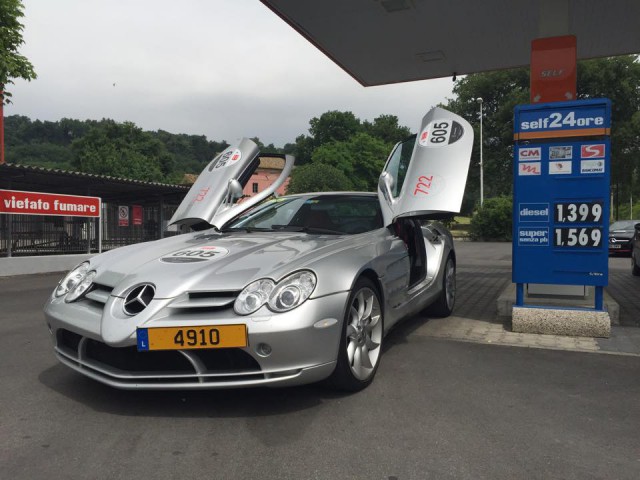 Update: Friday May 15 – 12:05 pm
We have just crossed the Macerata checkpoint where there is a time trial. We were hoping that the weather would have cleared up by now but it doesn't seem that way. However, that is not stopping a few cars from driving topless and as for the white Mercedes-Benz SLR Stirling Moss ahead of us we do hope they have an umbrella!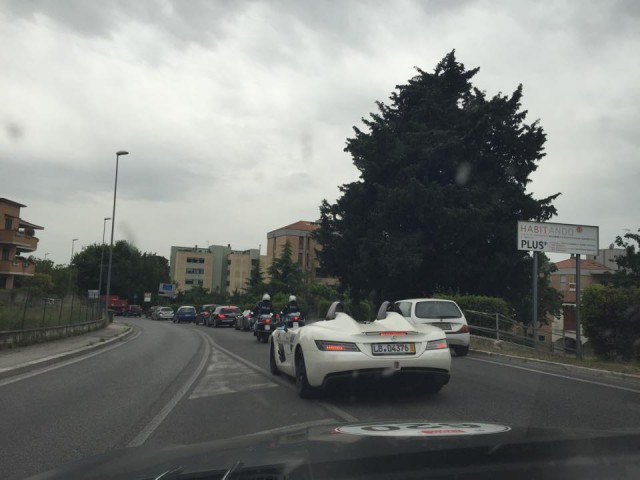 Update: Friday May 15 – 11:30 am
Checkpoints in Loreto and Recanati done!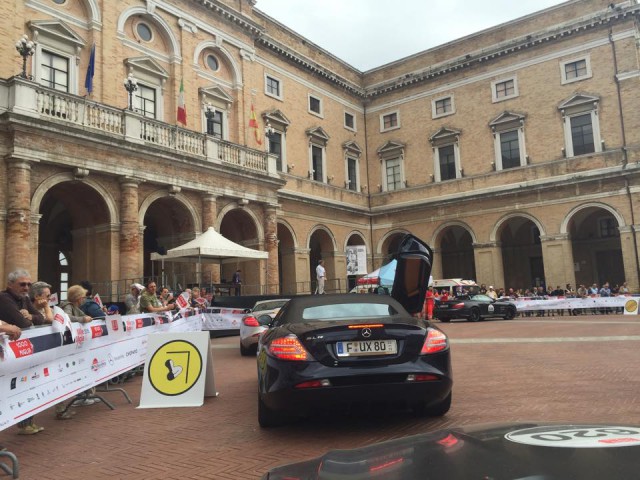 Update: Friday May 15 – 10:41 am
We just crossed the Senigallia checkpoint! It took us about 10 minutes to cross the checkpoint as there was quite a bit of traffic.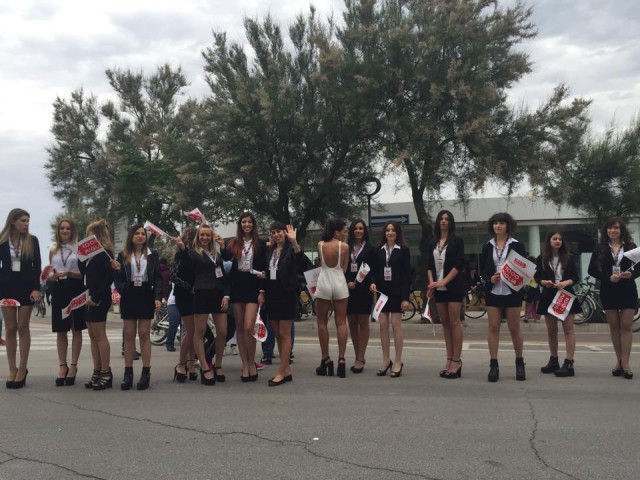 Update: Friday May 15 – 10:14 am
Elsewhere in the race, hundreds of classic cars and teams are behind us as we all embark on destination Roma. Multiple Lemans Winner Derek Bell from Jaguar team is piloting a C-Type while UK based chef James Martin has the legendary D-Type. Bicester Heritag – UK's first business park dedicated to motoring – is representing Land Rover in this years Rally. Lancia is here too with Auto Aspillo and several of their classic cars.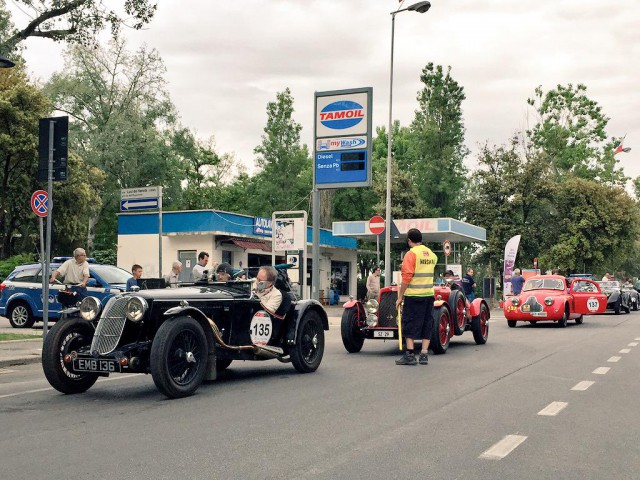 Update: Friday May 15 – 10:05 am
We have arrived at the first time trial of the day just outside of Senigallia. Ferrari Mille Miglia Tribute team are also within our vicinity.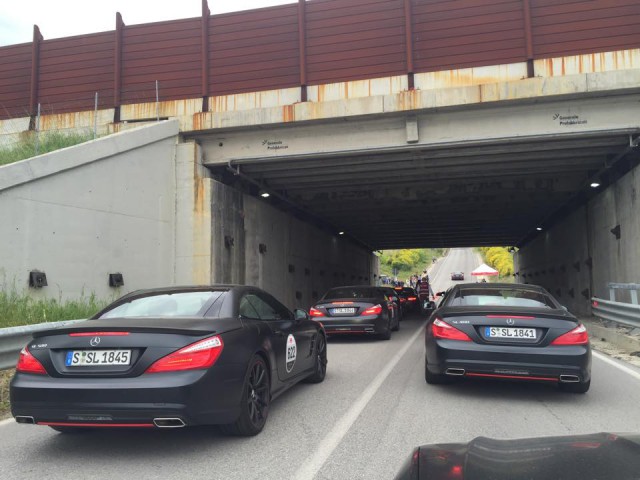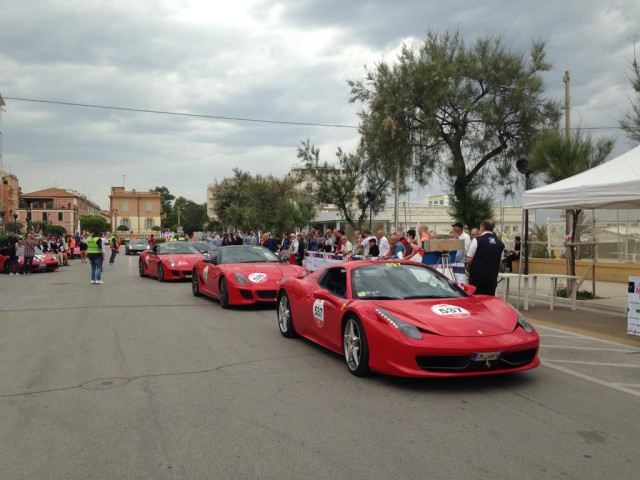 Update: Friday May 15 – 8:05 am
We are ready to start Day 2 in Riccione on the shores of the Adriatic Sea! Today we are driving to Rome, over 500 km inclusive of a double dozen time trials. Weather is not as nice as yesterday and mostly overcast but it should still be around 26 degrees.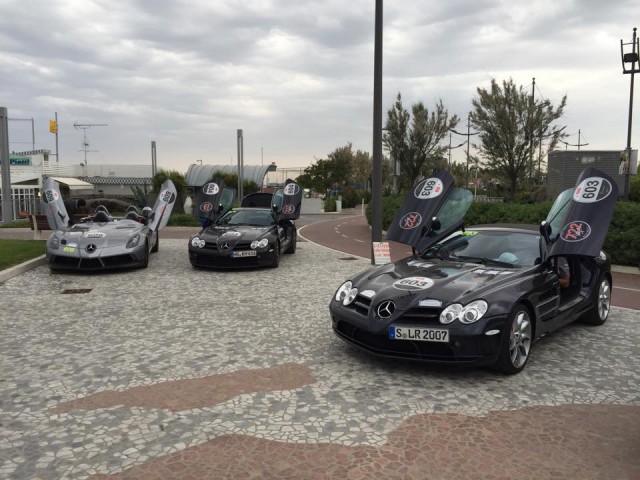 Our start line is located at Piazzale San Marino in Riccione while the classic cars start at the Checkpoint in San Marino in order to give us a headstart. The finish line is located at Stadio Olimpico in Rome. Below are a few photos from our pre-start session.