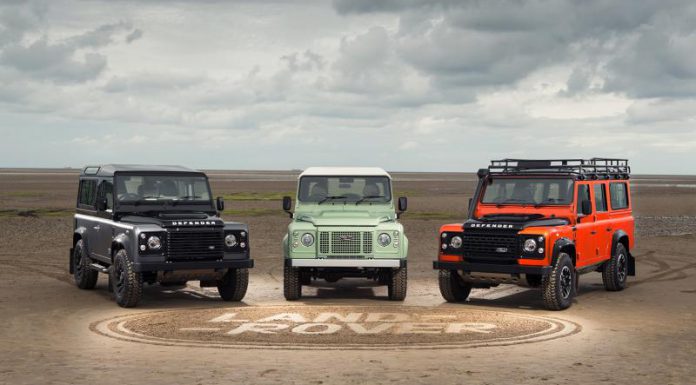 When the next-generation Land Rover Defender arrives in 2018, it has emerged that a high-performance SVR branded variant could be on the cards to rival the Mercedes-Benz G63 AMG.
If true, a Land Rover Defender SVR would be developed and produced by Jaguar Land Rover's relatively new Special Vehicle Operations (SVO) division. Such a Defender derivative could prove particularly popular in Russia and China where the G63 AMG is a massive hit. As with all other Defender models, any possible SVR version would still be exceptionally capable off-road as is the G63 AMG.
Discussing the potential of SVO diversifying into many new Jaguar Land Rover models with Auto Express, Land Rover design boss Gerry McGovern said "The beauty of SVO is that it allows you to play. It lets you take vehicles and heighten their essence. We can do that with all of them, whether it's a Range Rover, Discovery or a Defender."
As for the next-generation Defender more broadly, it is currently codenamed the L663 and will be the most heavily updated and revised Defender launched since the car hit the market in 1948. Additionally, it is suggested that the new car will appeal to a broader audience than just off-road enthusiasts.
All told, it is reported that at least five different body styles of the Land Rover Defender will be launched. They will apparently include a four-door long-wheelbase car with a metal roof, a four-door LWB pickup, two-door SWB with a metal top, two-door SWB with a soft top and a two-door SWB pickup. Elsewhere, at least engine options from Jaguar Land Rover's Ingenium series of engines are expected.
Two of those will be 2.0-litre diesel four-cylinders delivering 150 hp and 180 hp respectively as well as two 2.0-litre petrol four-cylinders with 180 and 240 hp. Additionally, a 3.0-litre petrol V6 is expected to top out the regular range and replace the existing V8 while delivering 300 hp. If a Defender SVR is created however, it could be offered exclusively with a V8 or alternatively, a more powerful version of this V6.
[Via Auto Express]