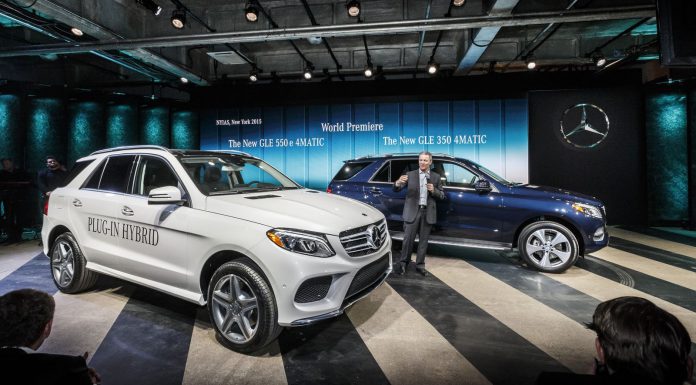 Prior to the New York Auto Show 2015 kicking off a couple of days ago, the annual Mercedes-Benz Media Night was held at the show. A selection of the latest and greatest new models from Daimler were displayed throughout the night.
For starters, the new Smart ForTwo was displayed but it was certainly overshadowed by the selection of new Mercedes-Benz GLE SUV models which celebrated their respective debuts at the new Mercedes-Benz Media Night at this year's New York Auto Show.
The Mercedes-Benz GLE marks the end of the M-Class in the Mercedes-Benz range of SUVs and alongside the name change, adopts a plethora of aesthetic modifications as well as a host of mechanical tweaks making general improvements on the M-Class. As with the majority of Mercedes-Benz cars, the GLE will be available with a number of different engines.
The entry-level Mercedes-Benz GLE250d makes use of a 2.0-litre diesel four-cylinder engine delivering 201 hp and returning an impressive 52.3 mpg on the combined cycle while emitting 140 g/km of CO2 emissions. Elsewhere is the Mercedes-Benz GLE350d offered with a 3.0-litre V6 diesel pumping out a more substantial 254 hp and 457 lb-ft of torque. This GLE variant returns 44.1 mpg and 169 g/km of CO2 emissions.
The engine that, naturally, we are most excited about is in the Mercedes-AMG GLE63 S. It features the German firm's staple 5.5-litre twin-turbocharged V8 engine delivering a total of 577 hp as well as 561 lb-ft of torque. As a result of this power and torque, the potent GLE derivative will rocket to 100 km/h in a mere 4.2 seconds as well as an electronically limited top speed of 250 km/h (155 mph). It returns 23.9 mpg on the combined cycle and 278 g/km of CO2 emissions.