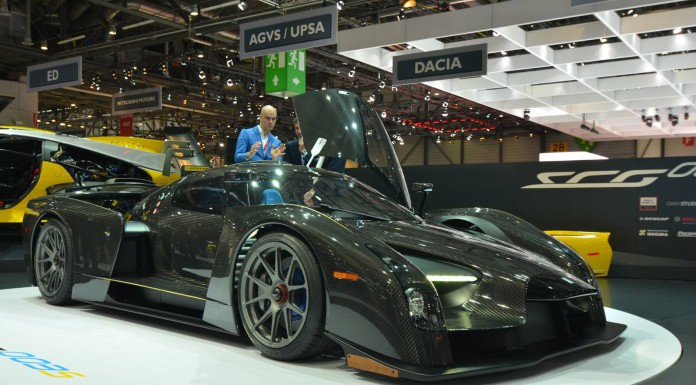 Scuderia Cameron Glickenhaus are a newcomer for the Geneva Motor Show 2015. They have two cars on display at their stand; the Scuderia Cameron Glickenhaus 003C and the 003S. Respectively, they are the race and road going versions of a brand new chassis. We took a closer look at both cars.
Many will recognise the name of American financier and owner James Glickenhaus in the company name. Glickenhaus rose to automotive fame when he commissioned Pininfarina to rebody his Ferrari Enzo into a homage to the 1960's P-Series Ferrari's; the Ferrari P4/5. His latest project is a departure from the Ferrari's we are used to.
The Scuderia Cameron Glickenhaus 003 features extensive carbon fibre chassis and structural components. The bodywork is mostly carbon fibre and designed by Granstudio in Turin. Glickenhaus hopes to offer both 003C and 003S to customers and customer race teams for privateer racing.

Whilst the road car doesn't yet have a confirmed engine choice, we do know that the racer gets a Honda-sourced 3.5-litre twin-turbocharged V6 engine. That engine has been extensively worked on by Autotecnica Motori and while horsepower or torque outputs aren't known (over 600 hp is reported), it has been mated to a Hewland paddle shift transmission driving the rear wheels.
The bodywork of the road going SCG 003S is particularly interesting. It features a characteristic supercar design with a low cockpit, large rear wing and a combination of flowing and sharp lines. The front fascia is clearly motorsport inspired with a prominent nose stretching out past the splitter. The most striking element is the large rear wing which runs straight down the back of the car.
For more info on the Scuderia Cameron Glickenhaus 003C and 003S, check out our earlier posts. For all the latest from the Geneva Motor Show 2015, take a look at our dedicated news feed or follow us on Facebook, Twitter, Instagram or Google+.