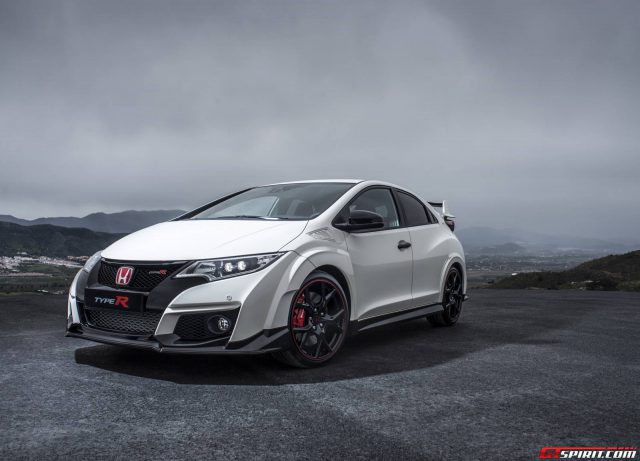 After months of teasing us with videos and outrageous wing designs, the 2015 Honda Civic Type R is official and expected to be unveiled at the Geneva Motor Show 2015. The car is, as expected, only available in front-wheel-drive form but the figures for the 2015 Honda Civic Type R are nothing short of extraordinary. For the first time in Type R history, the 2015 model will no longer be naturally aspirated but will be fed by a turbocharger. This change combined with the 2-litre four-cylinder engine means the 2015 Honda Civic Type R will produce 306 brake horsepower.
This means the car will launch itself from 0-96 km/h in a handsome 5.7-seconds. What's even more impressive is the speed at which the Type R can be pushed to. This front-wheel-drive Japanese speed machine will not stop until 269 km/h!
The 2015 Honda Civic Type R has been announced with no mention of an automatic or dual clutch transmission, it seems that this iteration of the Type R will remain the drivers car of choice for purists.
Aesthetically, the Type R certainly sets itself from lesser Civic models with its aggressive stance and wider body. It is not just form either, there is plenty of substance behind the looks. Active dampers act to keep the each wheel independently to keep them as stable as possible through cornering. Dual Axis strut front suspension reduces torque steer by 50 per cent over the standard Civic.

Both engine and chassis are controlled further using the '+R' button, enhancing throttle response, reducing assistance to the steering and increases the Adaptive Damper System's damping force by 30 per cent. Honda has fitted the 2015 Honda Civic Type R with some beautiful 19-inch lightweight alloy wheels and 235/35 R19 tyres – developed especially for the Type R which hide 350mm drilled discs with four-piston front callipers that were designed and manufactured by Brembo.
Inside its all typical Type R with plenty of race inspired red suede and aluminium highlights including the Type R gear knob.
For all the latest from the Geneva Motor Show 2015, take a look at our dedicated news feed or follow us on Facebook, Twitter, Instagram or Google+.