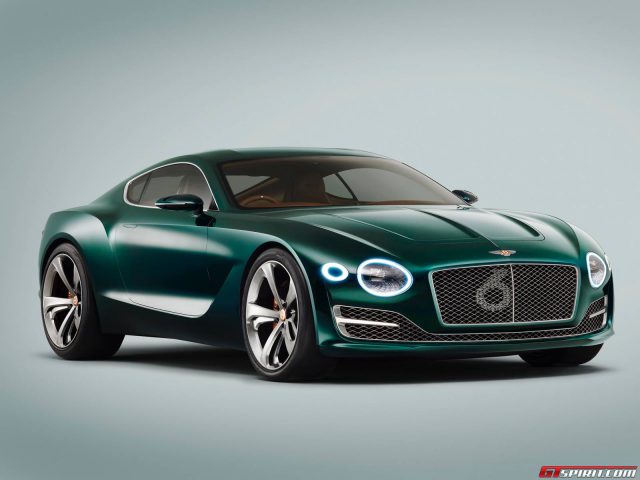 The surprise release of the Geneva Motor Show 2015 so far comes from Bentley with the Bentley EXP10 Speed 6. The Bentley EXP10 Speed 6 is a 2-door Bentley GT car, perhaps designed as a rival for the Jaguar F-Type and Mercedes-AMG GT. A high performance two seater sportscar, the Bentley features a hybrid drivetrain, showcasing a potential new direction for the British brand.
The Bentley EXP10 Speed 6 uses copper elements are used as accents to both exterior and interior. The design gets the traditional Bentley matrix grille and four-round headlamps. The car is low, sleek and features a heavily metallic version of British Racing Green. Bentley have used 3D metal printing technology for the grille mesh, exhausts, door handles and side vents to ensure precise detail.
The interior gets a continuous line that runs around the cabin. Two elegant quilted sports seats are positioned either side of the narrow centre console. The console itself gets a exquisite driver controls and a 12 inch touch screen for the MMI. The Bentley EXP10 Speed 6 also features more traditional materials including 3D quilting, milled directly in to solid straight-grain cherry wood.
We are told that the Bentley EXP10 Speed 6 uses a hybrid drive system but there are no details about that powertrain at the time of writing. The rear interior space is divided into two compartments designed to house a specifically designed four-piece luggage set.

Wolfgang Dürheimer, chairman and chief executive of Bentley Motors, comments:
"EXP 10 Speed 6 is one vision for Bentley's future – a powerful, exquisite and individual concept. The showcar has the potential to be the new pinnacle luxury two-seat sports car. It offers thrilling, driver-oriented performance, complete with trademark modern Bentley luxury and effortlessness.

It could be a future model line, alongside the Continental GT and redefining the pinnacle of another market sector, and the styling of the EXP 10 Speed 6 could influence the expansion of the Bentley family. This is not just a new sports car concept – but the potential Bentley sports car – a bold vision for a brand with a bold future."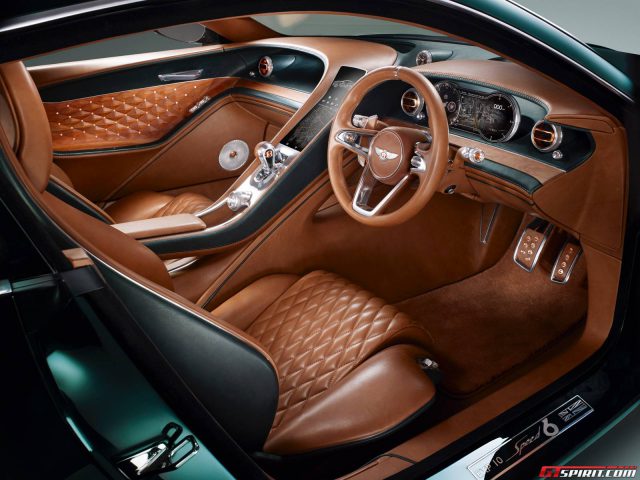 We will be live at the Geneva Motor Show 2015 for the next two days, stay tuned for photos from the show floor and from the Volkswagen Group Night later tonight. For all the latest from the Geneva Motor Show 2015, take a look at our dedicated news feed or follow us on Facebook, Twitter, Instagram or Google+.