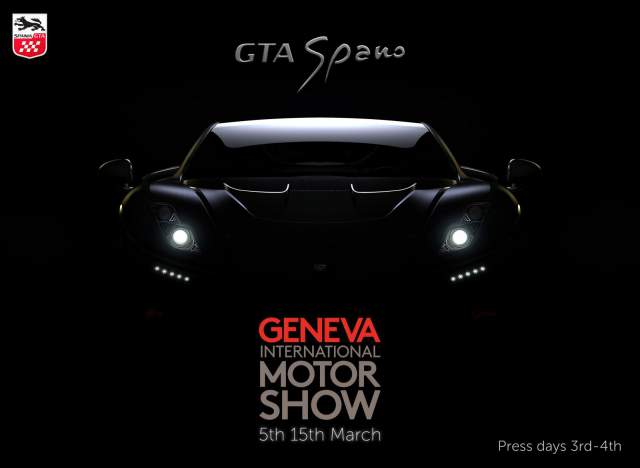 A second teaser image of the new GTA Spano supercar set to debut at the Geneva Motor Show 2015. The previous image showed off the thoroughly revised rear-end of the Spanish supercar and this teaser reveals the front of the new car.
What is immediately apparent from this teaser image is that the front fascia of the new GTA Spano will be heavily revised over the current model. It will adopt different headlights, LED daytime running lights as well as a bonnet quite clearly featuring large air extractors somewhat reminiscent of those from the McLaren P1.
The current GTA Spano utilises a V10 engine delivering a total of 900 hp. However, the new GTA Spano will feature an 8.0-litre twin-turbocharged V10 engine with 925 hp and 1220 Nm of torque. As a result, it will reportedly rocket to 100 km/h from zero in just 2.9 seconds as well as a top speed of 370 km/h.
The company behind the Spano, Spania GTA, claims that the new model will be the first supercar to incorporate graphene technology into its production. The material is 200 times stronger than steel while remaining incredibly flexible and fire resistant. It is suggested that both the chassis and bodywork of the new GTA Spano will use grapheme, carbon fibre, titanium and Kevlar.