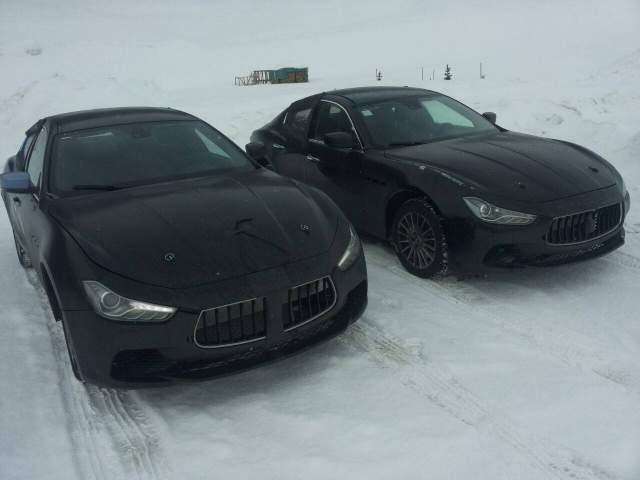 A couple of spy shots have just emerged of two Alfa Romeo Giulia mules in the midst of testing wearing the skin of the Maserati Ghibli and outfitted with numerous other parts from the Fiat Chrysler group.
Exterior wise, subtle modifications have been made to the skin of the Ghibli including revised air intakes and grilles as well as visual changes to the rear decklid and two rear passenger windows. Inside, it is a mismatch of Fiat Chrysler Automobile parts with the steering wheel for example, borrowed straight from a Jeep.
While details about the exterior and interior design of the finished Alfa Romeo Giulia sedan remain scarce, details are known about the engines it will be available with. The entry-level engine will be a 2.2-litre four-cylinder turbocharged diesel delivering between 135 hp and 210 hp depending on specification.
Elsewhere, a 2.0-litre four-cylinder petrol which will be turbocharged and fitted with MultiAir variable valve timing will also be produced. It will be available in outputs ranging from 180 hp to 330 hp and be made available alongside either a manual or automatic transmission as well as rear-wheel drive and all-wheel drive.
Topping out the new range of engines for Alfa Romeo will be a twin-turbocharged 2.9-litre V6 capable of delivering up to 480 hp and set to inevitably power the marque's BMW M3/M4 rival. This engine will be related but re-engineered from the 3.0-litre unit currently available in the Maserati Quattroporte and Ghibli and built by Ferrari.
In the range-topping Alfa Romeo Giulia, this engine is expected to be mated to a dual-clutch transmission complete with a limited-slip differential. When combined with a lower overall weight than the M3, the tentatively named Alfa Romeo Giulia Cloverleaf should reach 100 km/h in less than 4 seconds.'