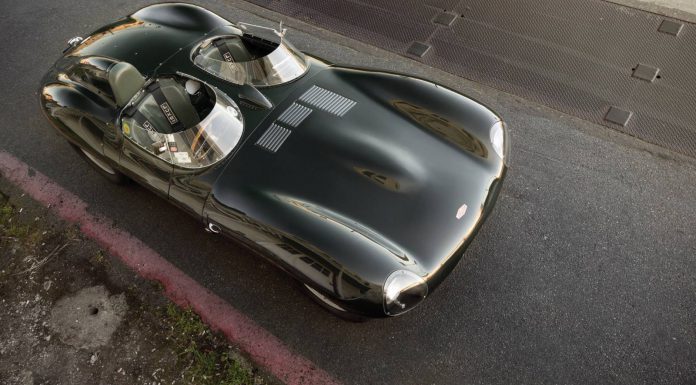 RM Auctions' season is well under way. Having successfully managed their annual Paris auction, they are now heading back across the pond to the Amelia Island Concours d'Elegance. The auction list is pretty well populate but it wasn't until this week that one of the highlights was announced, a stunning 1955 Jaguar D-Type!
This particular D-Type is very well known. One of the fifty-four examples produced, it was delivered to tennis player Curt Lincoln of Helsinki. In order to beat excessive taxation, Lincoln asked Jaguar to prepare the car to look used. As a result, Jaguar fitted a used steering wheel and machined the pedals to look used. As a nod to what used to be acceptable, Jaguar even fitted an odometer to display miles the car hadn't actually covered.
The car has won a number of races and was used extensively in Finland for ice racing. XKD 530 was eventually sold to English collector Nigel Moores where it was broken down into two different models, both bearing the same chassis number. The two cars were eventually bought back together again and restored to original specification following their acquisition in 2002.
The D-Type has more recently participated in the Villa d'Este Concorso d'Eleganza 2009, the Pebble Beach Concours d'Elegance 2009 and the Amelia Island Concours d'Elegance 2011. It has made appearances at vintage race meets too included the Silverstone Classic's 2011 Stirling Moss Trophy, the Goodwood Revival 2011 Sussex Trophy, and the Goodwood Revival 2012 Sussex Trophy.
It features a double partitioned cockpit and a rear tail fin. It is finished in the classic Jaguar green and has been given an estimate of $3,750,000 – $4,250,000. It will cross the auction block on 14 March 2015 at the Amelia Island Concours d'Elegance.

RM Auctions have a packed schedule for Amelia Island Concours d'Elegance 2015. Other headline lots include a 1930 Duesenberg Model J 'Sweep Panel' Dual-Cowl Phaeton by LeBaron valued at $1,200,000 – $1,400,000, a 1935 Mercedes-Benz 500/540 K Cabriolet A by Sindelfingen valued at $2,900,000 – $3,500,000, a 1960 Ferrari 400 Superamerica SWB Cabriolet by Pinin Farina valued at $6,000,000 – $7,000,000 and a 1971 Lamborghini Miura SV valued at $2,250,000 – $2,750,000.