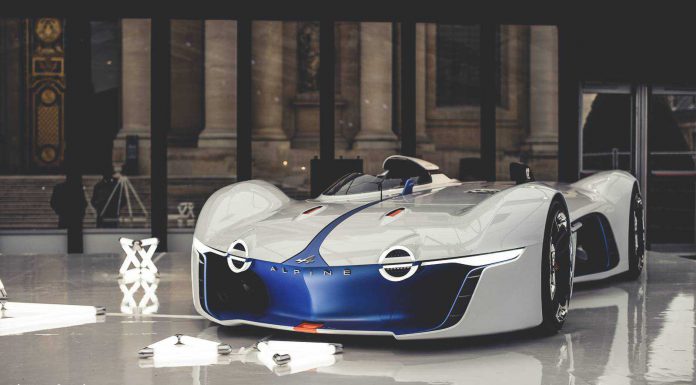 The recently revealed Alpine Vision Gran Turismo Concept is currently celebrating its world debut at the Festival Automobile International in Paris. Alpine's unique contribution to the Gran Turismo racing sim is one of just a handful to actually be made a reality and shown in the flesh.
The project originally started in July of 2013 when 15 staff from Polyphony Digital visited Alpine's design studio. Generally speaking, the design of the Alpine Vision Gran Turismo has been influenced by past Alpine models and concepts. As such, it features a single seater design and is right hand drive and utilises a very futuristic design.
Consequently, it incorporates both LED headlights and taillights and is about as far from a production car as you can get. In the company of other concepts unveiled for the Vision Gran Turismo project however, it fits in perfectly. Underpinning the car is a carbon fibre monocoque with power provided by a 4.5-litre V8 engine delivering a total of 450 hp at 6500 rpm and 580 Nm of torque at 2000 rpm. Consequently, it has a proposed top speed of 320 km/h.
That engine is then mated to a seven-speed sequential transmission driving the rear wheels. All told, the Alpine Vision Gran Turismo Concept weighs just 900 kg and features a 47/53 front to rear weight distribution. Braking is provided by six-piston calipers at the front with 390 mm discs as well as four-pot calipers at the rear clamping down on 355 mm discs.