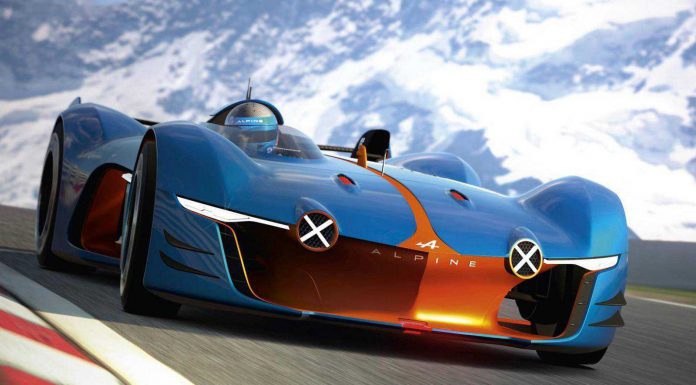 The Alpine Vision Gran Turismo Concept has just been unveiled after a couple of teaser images were revealed. A full-scale model of the car will be unveiled at the Festival Automobile International in Paris on the 27th of January.
The project originally started in July of 2013 when 15 staff from Polyphony Digital visited Alpine's design studio. Generally speaking, the design of the Alpine Vision Gran Turismo has been influenced by past Alpine models and concepts. As such, it features a single seater design and is right hand drive and utilises a very futuristic design.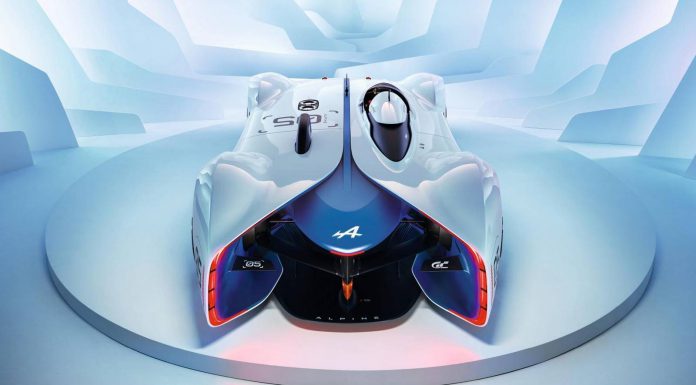 Consequently, it incorporates both LED headlights and taillights and is about as far from a production car as you can get. In the company of other concepts unveiled for the Vision Gran Turismo project however, it fits in perfectly. Underpinning the car is a carbon fibre monocoque with power provided by a 4.5-litre V8 engine delivering a total of 450 hp at 6500 rpm and 580 Nm of torque at 2000 rpm. Consequently, it has a proposed top speed of 320 km/h.
That engine is then mated to a seven-speed sequential transmission driving the rear wheels. All told, the Alpine Vision Gran Turismo Concept weighs just 900 kg and features a 47/53 front to rear weight distribution. Braking is provided by six-piston calipers at the front with 390 mm discs as well as four-pot calipers at the rear clamping down on 355 mm discs.
Discussing the car, Alpine's chief executive Bernard Ollivier said, "The designers and engineers involved in this project were tasked with creating a car that expresses the spirit of our brand. Alpine's genes are immediately visible in its styling, while its performance won't disappoint either when players get behind the wheel, or their DualShock PlayStation controller. They will find the same agility that helped to forge the legend of the original cars produced by Alpine founder Jean Rédélé. The Alpine Vision Gran Turismo stands at the crossroads of the past, present and future, at the frontier between motorsport and road cars.
[youtube]https://www.youtube.com/watch?v=QIk7-tyi0qo[/youtube]
"It also provides a link between the virtual and real worlds. Indeed, the end result is so stunning that we couldn't resist producing an actual full-scale model of it! The Festival Automobile International, which places the emphasis on automobile aesthetics, was seen as the ideal setting for the first 'real life' rendering of a car since the announcement of Alpine's revival broke cover. It will be possible to admire our latest creation and also to enjoy it first-hand thanks to Gran Turismo 6," said Ollivier.