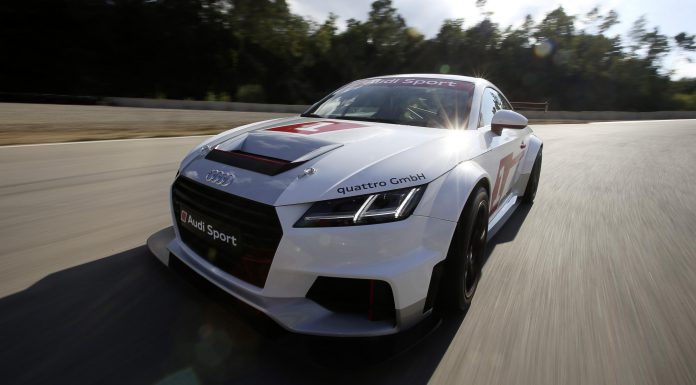 Audi has named the 18 youngsters from around the world, including three women, selected for the 2015 Audi Sport TT Cup scheduled to blast off at the beginning of March.
The Audi Sport TT Cup is a new one-make race series which will run alongside the larger German Touring Car Masters (DTM) series with 12 races spread over six of the nine DTM rounds after initial testing starting in March at the Hockenheim ring.
The 18 drivers from 13 nations and three continents were selected by a panel of judges comprising Audi Sport TT Cup coach Markus Winkelhock, Le Mans winner Marco Werner and former rally driver Sepp Haider.
Averaging 20 years old, the youngest driver is 16-year-old Joonas Lappalainen from Finland, the oldest Josh Caygill from Great Britain at 25. Germany has the highest number of drivers at three. The rest come from various nations including USA and Hong Kong. There are six reserved seats for guest drivers throughout the season, meaning Audi will field a total of 24 cars.
Speaking about the new driver line-up, project leader Rolf Michl said: "We had 165 applications from 30 nations. We intensively reviewed every single application and in a multi-stage selection process chose the 18 drivers who are now given the chance to prove themselves in the Audi Sport TT Cup.
"Our aim was to have a very international and attractive field – and we've achieved this. Now, we're looking forward to getting to know the 18 selected drivers better at the fitness camp and during the initial track tests at the beginning of March."
For the Audi Sport TT Cup, quattro GmbH has developed an all-new racing sports car: the TT cup. The racing version of the new Audi TT weighing only 1,125 kilograms delivers 310 hp but the power from the 2.0 litre TFSI engine can be briefly boosted by 30 hp with a 'push-to-pass' button.
Winkelhock, who will be on hand to coach the participants of the Audi Sport TT Cup as an experienced professional race driver, has already tested the racer and says: "The TT cup is a genuine race car, ideal for rookies, yet challenging to drive. You immediately feel that you're sitting in an Audi and recognize the close kinship with the brand's other race cars."
The field of the 2015 Audi Sport TT Cup, with birth dates:
Åhlin-Kottulinsky, Mikaela (S, November 13, 1992)
Amweg, Levin (CH, September 11, 1994)
Caygill, Josh (GB, June 22, 1989)
Coleselli, Marc (A, August 27, 1993)
Cypriano, Lucile (F, September 2, 1996)
Hezemans, Loris (NL, May 26, 1997)
Hofbauer, Christoph (D, July 15, 1991)
Kisiel, Jan (PL, July 14, 1994)
Landy, Sebastian (USA, December 14, 1995)
Lappalainen, Joonas (FIN, March 1, 1998)
Lindholm, Emil (FIN, July 19, 1996)
Marklund, Anton (S, December 9, 1992)
Marschall, Dennis (D, August 15, 1996)
Møller Madsen, Nicolaj (DK, March 10, 1993)
Önder, Kaan (TR, January 10, 1997)
Peitz, Dominik (D, November 20, 1991)
Rdest, Gosia (PL, January 14, 1993)
Thong, Shaun (HK, November 1, 1995)