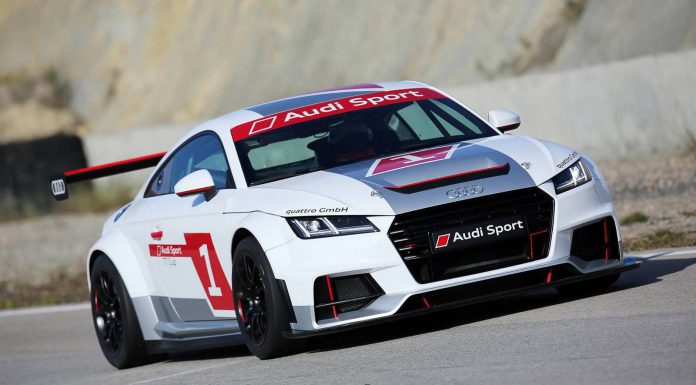 Audi has just unveiled a specifically developed racing-variant of the third-generation TT dubbed the TT Cup. Additionally, the German marque has announced the special Audi Sport TT Cup racing series which the car will complete in as part of the 2015 DTM season. The one-make racing series will become Audi's second alongside the R8 LMS Cup in Asia.
In total, 24 cars will participate in each race event with all prepared by quattro GmbH with two races of the Audi Sport TT Cup scheduled for each of the six DTM events held in Germany next year. Six of the racing seats will be occupied by changing guest drivers while the remaining 18 places will be filled by permanent drivers.
As for the car itself, it maintains the same 310 hp, turbocharged four-cylinder engine as the road-going TTS as well as an almost unchanged version of the six-speed S-tronic transmission. One of the new features is an active differential which is controllable through the cockpit. The car also features brand new aerodynamic bodywork with a prominent front splitter, massively flared wheel arches, a special bonnet, side skirts, rear bumper, diffuser, centrally exiting tail pipe and a huge rear wing.
Discussing the car, member of Audi's board of management for technical development Dr. Ulrich Hackenberg said, "The Audi TT is an icon and continues to epitomise powerful sportiness and emotional design in what is now its third generation. For me it was clear that a driving machine like the new Audi TT belongs on the race track as well. With the Audi Sport TT Cup we have found an exciting approach. The TT is going to thrill fans and drivers.
"With the TT cup we offer an attractive race car for beginners and drivers who switch from other racing series," says Heinz Hollerweger, Managing Director of quattro GmbH. "It goes without saying that for Audi safety is of paramount importance. We're using features from the Audi R8 LMS ultra, such as the Audi PS1 Safety Seat."
The winner of the championship will receive support in Audi's GT3 sports car program and a subsequent promotion into DTM or Audi's World Endurance Championship.