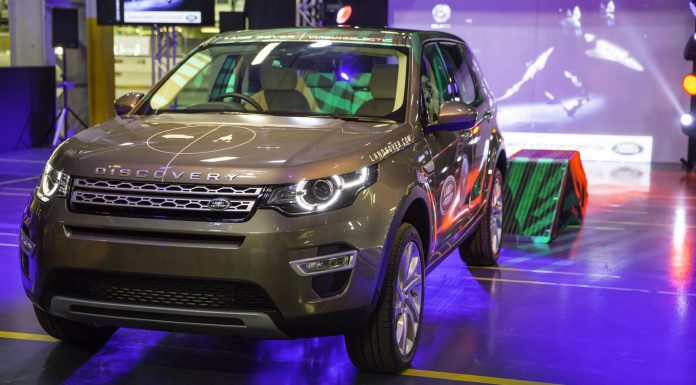 Production of the brand new 2015 Land Rover Discovery Sport has just kicked off at the company's Halewood factory in the United Kingdom. The very first example will be given to global partner Virgin Galactic to support its operations base.
During a special ceremony at the company's Halewood plant, the commercial director for Virgin Galactic Stephen Attenborough accepted the car for the pioneering spaceflight company. It is one of just a number of vehicles Land Rover is providing Virgin Galactic with.
Discussing the Discovery Sport's production, director of Land Rover Programmes Murray Dietsch said, "It fills me with pride to have seen the first new Discovery Sport coming off the line here at our world-class Halewood production facility. We are now even more excited to hand the keys over to the crew at Virgin Galactic. The new car embodies Land Rover's spirit of Above and Beyond, so it's fitting that it will be used by a similarly pioneering company in Virgin Galactic."
At launch, a selection of four-cylinder models will be available for the Land Rover Discovery Sport. The 2.0-litre petrol and the 2.2-litre turbodiesel both incorporate advanced stop-start technology as well as high-pressure direct injection, low-friction internal components along with smart regenerative charging to improve performance and economy. A 6-speed manual transmission can be optioned with either of the two engines with a 9-speed automatic also available. Additionally, customers can choose between rear-wheel drive and all-wheel drive. Later next year, a new ED4 turbodiesel will join the range.
Underpinning the Land Rover Discovery Sport is a steel monocoque but to keep the overall weight of the car down, aluminium has been utilised for the car's roof, wings, tailgate and bonnet. All up, the car tips the scales at 1817 kg which is about 900 kg less than the larger Land Rover Discovery.