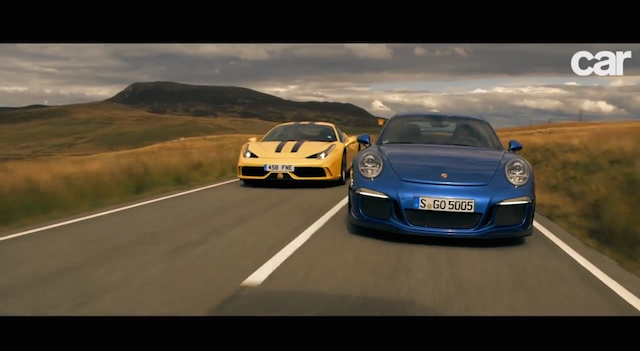 When it comes to competition, Ferrari's 458 Speciale is almost in a league of its own. There are few other cars on the market which are as track-focused as Maranello's most hardcore 458, however you could easily argue that the 991-generation Porsche 911 GT3 is capable of trading blows with the prancing horse.
[youtube]https://www.youtube.com/watch?v=6ojwGZ5gJP8[/youtube]
On paper, there are few similarities between the 458 Speciale and the 911 GT3. The 911 has its engine in the rear, while the 458's is in the middle. The 911 has a 3.8-liter inline-six, while the Ferrari has a busy 4.5-liter V8. But both these cars currently represent the most pure and high performance variants of the models they are based on, making them perfect candidates for a head-to-head comparison test.
Car Magazine recently took the pair out on some twisty British B-roads to see which is best. As with any other Porsche/Ferrari comparison, they say the 911 GT3 is the more refined and tame driving experience, while the 458 offers a much more encompassing and visceral drive. That doesn't tell you which one is better though, so watch the video below and find out!