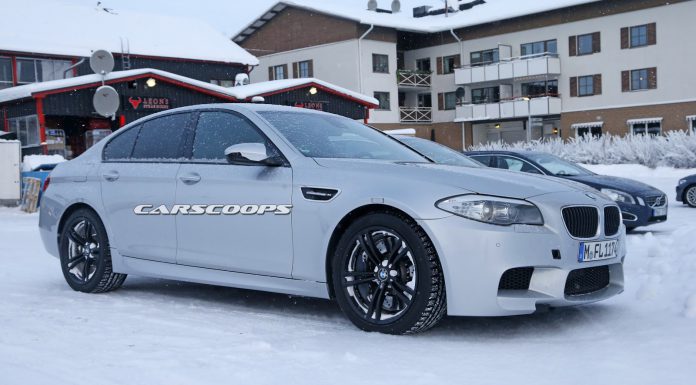 BMW is currently in the midst of developing all-wheel drive systems for its range of M-branded vehicles particularly with the North American market in mind. Now spyshots have emerged of a BMW 5-Series prototype testing an all-wheel drive system in the snow.
According to the spy photographer responsible for taking the pictures, he could see all four wheels spinning on this test mule when it was testing at one of the German firm's ice tracks. Upon closer inspection, the man behind the lens discovered that this BMW 5-Series featured a driveshaft at the front wheels meaning power is being sent through all four for the first time.
Unlike the xDrive all-wheel drive system used by the BMW X5 and X6 models, the new system developed for the next-generation BMW M5 and M6 will reportedly be more rear-biased. With that in mind, the German company hopes the system will retain the thrills provided by rear-wheel drive M models but with the added traction that all-wheel drive offers.
As for the next-generation BMW M5 itself, it will reportedly maintain the current car's twin-turbocharged 4.4-litre V8 engine but tuned to deliver about 617 hp. A number of weight saving measures will also be employed across the new 5-Series range with aluminium, carbon fibre reinforced plastic and high strength steel set to be used.
[Via Carscoops]