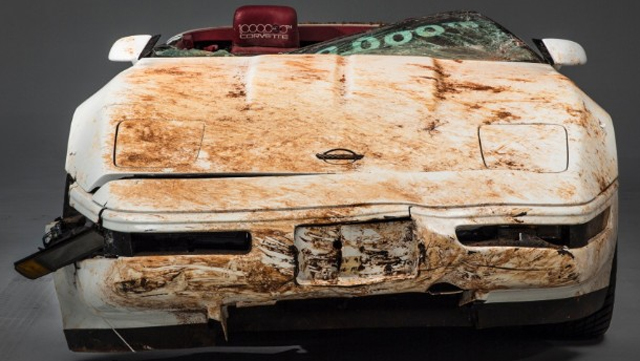 Earlier this year, eight valuable Chevrolet Corvettes were damaged when a sinkhole opened up at the National Corvette Museum. While all eight were expected to be restored, five of them were deemed beyond repair but one of the three set to be restored is the 1 millionth Chevrolet Corvette and it was recently displayed to the media at a facility in Michigan.
Chevrolet believes that this particular Corvette is the most valuable of the three which were damaged with estimates suggesting it is worth upwards of $750,000. As it is 22 years old, restoring the new 1 millionth Corvette won't be easy as replacement parts will be difficult to find and it will be hard to create new ones.
General Motors hopes that the car will be returned to its original condition by June next year. As for the 2009 Corvette ZR1 Blue Devil also damaged by the sinkhole, it was recently revealed at SEMA 2014 after its restoration. The restoration of the third and final car, a black 1962 example, will be undertaken by a specialist team as it is too old for General Motors to correctly return to its original condition.
[Via CNN]