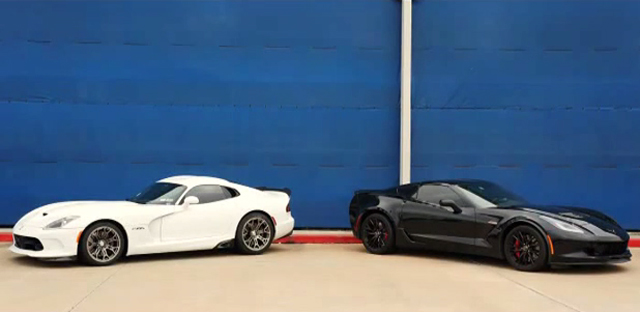 Customer deliveries of the 2015 Chevrolet Corvette Z06 only started a few days ago and already one enthusiastic owner decided to race against a 2014 Dodge Viper TA to see which of the two most potent American supercars are fastest.
[youtube]https://www.youtube.com/watch?v=kSd1aZHqMTg#t=54[/youtube]
From a specification standpoint, the new Corvette Z06 delivers 650 hp and 650 lb-ft of torque while the Viper TA manages to deliver 640 hp through the rear wheels alongside 600 lb-ft. While the Corvette Z06 has a little bit more power and torque, it is slightly heavier than the Viper TA and as a result, the rolling drag races are very close!
With that being said, the older Viper TA manages to outsprint the Corvette Z06 in all of the races. One possible reason for this is that the Viper TA has longer gear ratios and six-speeds while the Corvette Z06 featured has the seven-speed manual.