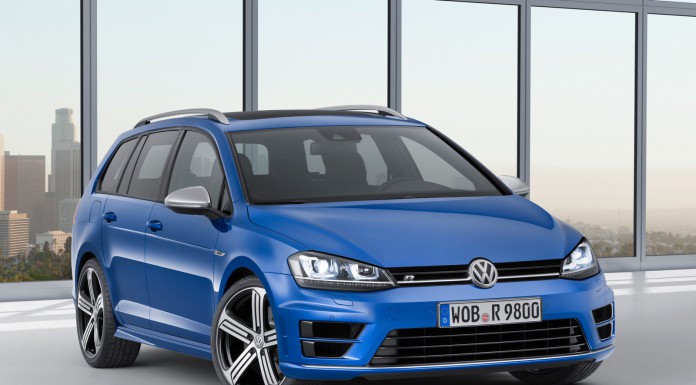 Volkswagen's display at the Los Angeles Auto Show 2014 has a strong focus on two things; 1) the Volkswagen Golf and 2) the Hydrogen VAG powerplant! One of the biggest consumer releases though is the Volkswagen Golf R Variant. The Golf R has been a massive success for the German brand so an estate body version was a foregone conclusion!
It is the first time that Volkswagen have produced the Golf R as a station wagon (or estate depending on where you read this from). It gets the same four-cylinder 300 hp, 280 pound-feet torque engine as the hatchback. Gearbox is a standard 6-speed DSG dual-clutch automatic transmission with permanent 4MOTION all-wheel-drive system.
The chassis sits 0.8 inches lower than a stock Golf. Features include a progressive steering system and an "ESC Sport" stability control system which can be deactivated on a racetrack. Optionally, customers can choose a DCC adaptive damping system with a driving profile selector that features a Race mode.
Standstill to 80 km/h (50 mph) in only 3.8 seconds and to 100 km/h (62 mph) in 5.1 seconds. It is electronically limited to a top speed of 250 km/h (155 mph). The Volkswagen Golf R Variant only consumes 7.0 liters/100 km (34 mpg) and chucks out CO2 emissions of 163 g/km.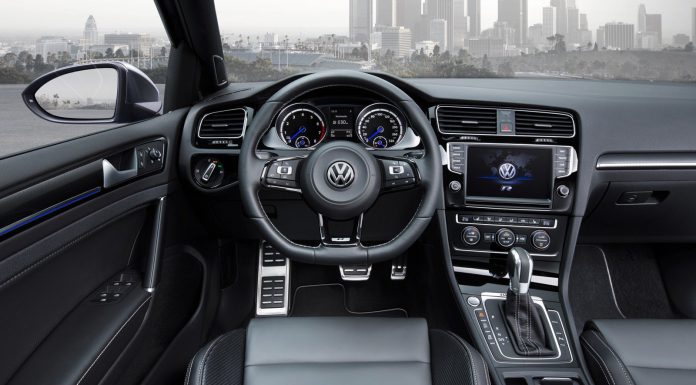 The Golf R Variant has a new R design bumper, a high-gloss black diffuser, four chrome exhaust tips, "aero flaps" on the D-pillars, cherry-red taillights and LED license plate lighting. At the front it gets an R-specific bumper with large air intakes, a distinctive radiator grille (with "R" logo) as well as Bi-Xenon headlights with integrated daytime running lights.
The 18-inch Cadiz aluminum-alloy wheels have been specially designed for the R models. They come fitted with 225/40 tires;. The Golf R Variant gets black-painted brake calipers with the "R" logos. The car can also be ordered with optional 19-inch Cadiz and Pretoria aluminum-alloy wheels.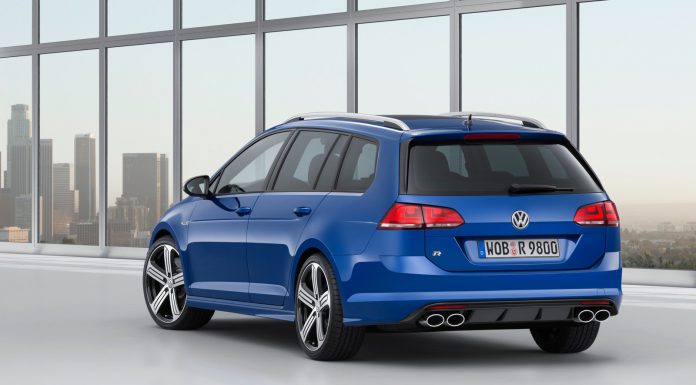 Inside, the Golf R Variant is equipped with sport seats with a fabric and Alcantara material mix. Decorative stitching is finished in crystal gray with an "R" logo applied to the seat backrest. Other interior features include blue ambient lighting, automatic air conditioning, and the Composition Touch infotainment system. A Nappa Carbon leather package is available as an option.

With five people on board, the car has 605 liters (21.4 cubic feet) of cargo space. Up to the front seats and up to the roof, there is 1,620 liters (57.2 cu ft) of luggage room.
The Volkswagen Golf R Variant will go on display at the Los Angeles Auto Show 2014 tomorrow. Check back for live photos!