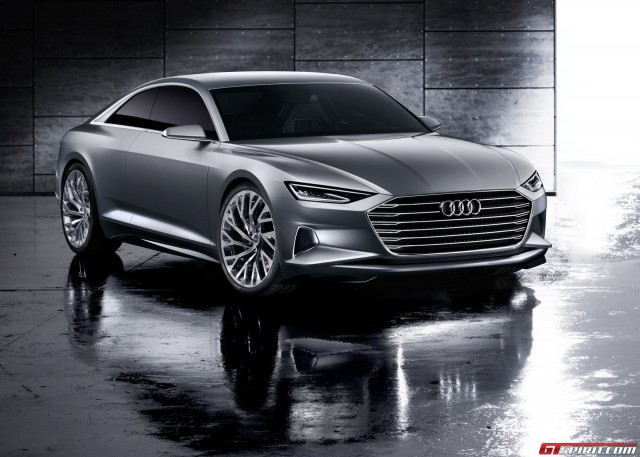 Audi has just taken the wraps off its much-hyped about Los Angeles Auto Show 2014 car dubbed the Audi Prologue Concept. The German firm says the concept launches Audi into a new design era under new head of design Marc Lichte.
The long two-door coupe is unmistakeably Audi yet ushers in a different design for the firm. It features flowing and elegant lines, streamlined wing mirrors, an aggressive front end and a taut and low-profile roofline. It is finished in a shade dubbed Light Diva Grey.
The first thing you'll notice about the front end of the Audi Prologue Concept is the redesigned singleframe grille. It incorporates Audi's four-ringed logo and compared to existing Audi models, is significantly wider and positioned lower than usual. Up close, the new singleframe grille uses a fine diamond pattern to add an extra sense of class.
Another key design element Lichte focused on was the headlights. They feature exceptional sharp lines and like the front grille, are wider and slimmer than other Audi headlights. Additionally, the new headlights feature Audi's Matrix laser technology. This means that the headlights feature a projection lens with a laser light source to provide excellent night-time vision. Elsewhere at the front end, the Audi Prologue features new, distinct air intakes which match the aggressive lights and grille and provides the car with a menacing stance on the road.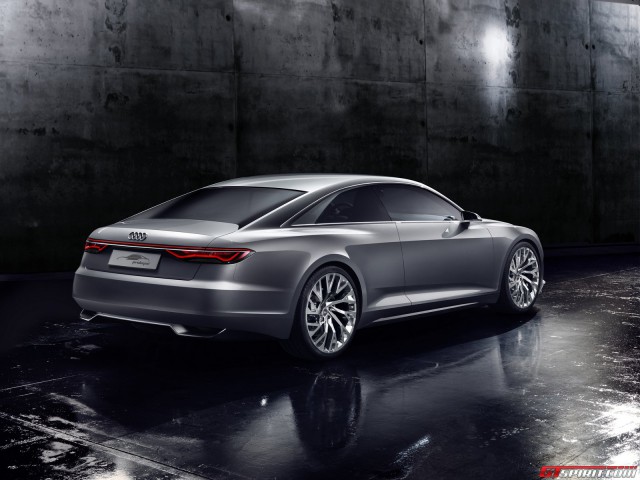 The sides are characterised with exceptionally clean lines as well as the large 22-inch wheels set in flared wheel arches. The wing mirrors are then made from aluminium and to ensure a clean design, no door handles are featured on the Prologue. Instead, the doors are opened electromechanically when the illuminated sensor surfaces are touched.
At the rear, the Audi Prologue utilises newly designed LED taillights which are joined by a central red bar stretching across the rear fascia. Additionally, the wide C-pillars are featured alongside a uniquely designed inward curved rear window.
Finally, the Audi Prologue Concept's interior has been designed to combine "sporty driving and relaxed touring". It includes an elegant dashboard design with a simple gauge cluster making use of a large LED screen. Another key element is the front passenger display which is subtly integrated into the dashboard and consists mainly of bendable OLED film.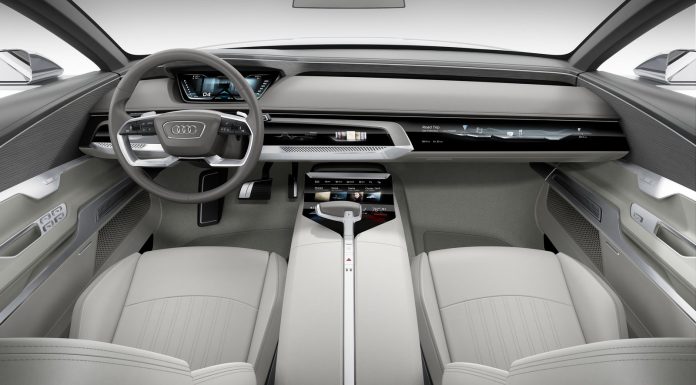 Beneath the skin, the Audi Prologue Concept uses the company's impressive 4.0-litre TFSI V8 engine. This powertrain has been upgraded to now deliver 605 hp and 516 lb-ft of torque. In overboost mode, torque rises to 553.2 lb-ft. When it is all said and done, the 1980 kg concept can reach 100 km/h in 3.7 seconds.

Discussing the car, Marc Lichte said, "Audi stands for sportiness, lightweight design and the quattro permanent all-wheel drive. In the Audi prologue, we are expressing this know-how in a new form – we have put the sportiest car in the luxury segment on wheels. Our team took new approaches in both exterior and interior design."