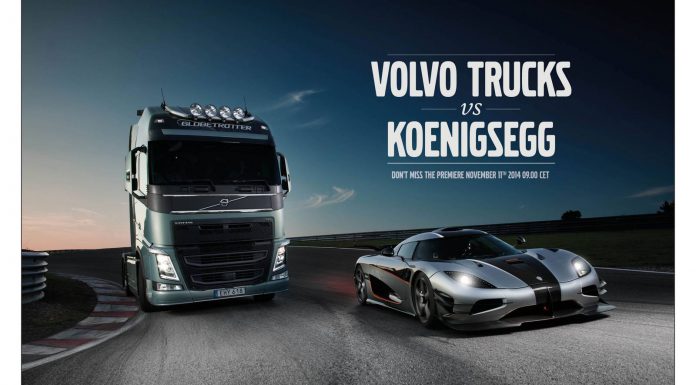 Unveiled at the Geneva Motor Show 2014 at the start of March, the Koenigsegg One:1 promises to not only be the fastest production car but also the most powerful. The One:1 should be so fast in fact that even the mighty Bugatti Veyron Super Sport won't be able to compete with it in a straight line let alone around a racetrack. As a result, the One:1 is virtually at the top of the metaphorical food chain of cars.
Not dissuaded by this fact, Volvo Trucks recently enlisted the help of a Koenigsegg One:1 in the film of its latest advertisement displaying its brand new I-Shift Dual Clutch transmission.
[youtube]http://www.youtube.com/watch?v=2tBISbnCRsg[/youtube]
Behind the wheel of the Volvo FH truck will be former racing driver Tiff Needell. The race took place at the Ring Knutstorp in south Sweden and while it remains unclear just what the race will entail and how the Volvo FH could win, all will be revealed on November 11th.
According to the PR director at Volvo Trucks Per Nilsson, "Matching a Volvo FH against Koenigsegg One:1 is the perfect challenge to see if our newly launched I-shift Dual Clutch gearbox lives up to expectations in terms of driveability and driving comfort that comes with seamless gear shifting."