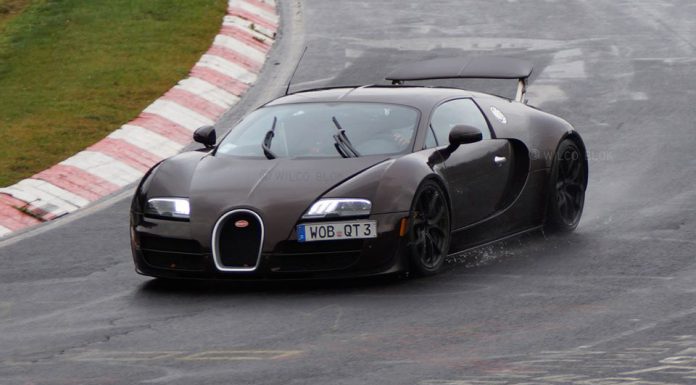 The above photo may appear to be of your typical Bugatti Veyron Supersports, but this car has a secret system underneath its surface. According to photographer Wilco Blok, who caught this prototype out testing at the Nurburgring, this car is actually a very early test mule for the hybrid drivetrain to be utilized in the successor to the Veyron.
Last month reports surfaced which indicated the Veyron successor could be called the Chiron, a nod to former Bugatti racing driver Louis Chiron. The car will reportedly feature an updated version of the current car's 8.0-liter quad turbocharged W16 engine mated to a hybrid system, resulting in a combined output of a scarcely believable 1479 horsepower. Additionally, the Veyron replacement may feature electrically-assisted turbochargers and a new direct-injection combustion process to help it meet Euro 6 emissions standards.
Bugatti engineers have already confirmed that five Chiron mules are out and about undergoing various tests. The sighting of this car marks the second time we've seen a potentially hybrid prototype at the 'Ring, with the first being earlier this year in April. However with the followup to the Veyron reportedly arriving by as early as 2017, we can expect to see many more!