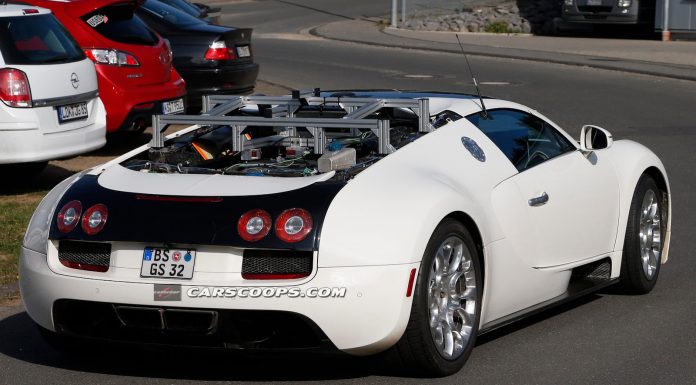 A couple of days ago, a mysterious Bugatti Veyron prototype was spied testing on the Nurburgring. Now some new spyshots have emerged showing the prototype up close and giving us a better view of the interesting engine bay.
From the front, this Veyron looks like a regular Veyron Super Sport. However, it is in the engine bay where all the action is happening. A large steel frame has been fitted where the engine lies and interestingly, it is hard to actually see any sign of the incredible 8.0-liter, quad-turbocharged W16 engine which has become so recognisable. What's more, when filmed testing, very little engine noise could be heard.
Additionally, a host of exposed wires can be seen and it is obvious that Bugatti is definitely testing a host of new technologies with this Veyron prototype. Unfortunately, it is difficult to ascertain just what is being tested here, but based on what Bugatti has said in the past, it could very well be a prototype for the Veyron's highly anticipated successor.
When recently quizzed about whether the Veyron's replacement would utilise a hybrid engine like the LaFerrari, P1 and 918 Spyder, company boss Dr. Wolfgang Schreiber said "Maybe" with a smile. So there's a possibility, this is a test bed for such a powertrain.
[Via Carscoops]