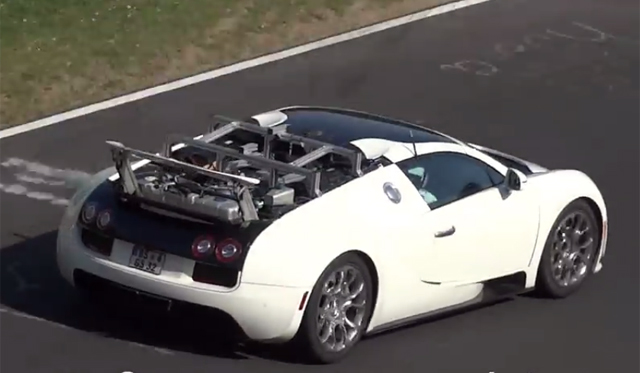 Not too long ago, confirmation came from Bugatti that it was planning a car to replace the mighty Bugatti Veyron. While such a car may not rival the Veyron Super Sport's incredible 267 mph top speed, from every other performance standpoint, it should be a significant improvement.
[youtube]https://www.youtube.com/watch?v=R_i6c-bjGZE[/youtube]
Recently, a very interesting Bugatti Veyron prototype was spotted testing at the Nurburgring. Because the Veyron has never been a car intended for ferocious racetrack driving, it is a rare occurrence to see even a current Veyron on the famous German race track. However, seeing a prototype only comes around once every blue moon.
2013 Memorable Highlights for Bugatti

From the front, this Veyron looks like a regular Veyron Super Sport. However, it is in the engine bay where all the action is happening. A large steel frame has been fitted where the engine lies and interestingly, it is hard to actually see any sign of the incredible 8.0-liter, quad-turbocharged W16 engine which has become so recognisable. What's more, there is absolutely no engine noise being produced by this prototype and all you can hear are the tyres and wind passing over the French supercar.
So what could this be? Well, it is impossible to say definitively what it is, but when recently quizzed about whether the Veyron's replacement would utilise a hybrid engine like the LaFerrari, P1 and 918 Spyder, company boss Dr. Wolfgang Schreiber said "Maybe" with a smile.