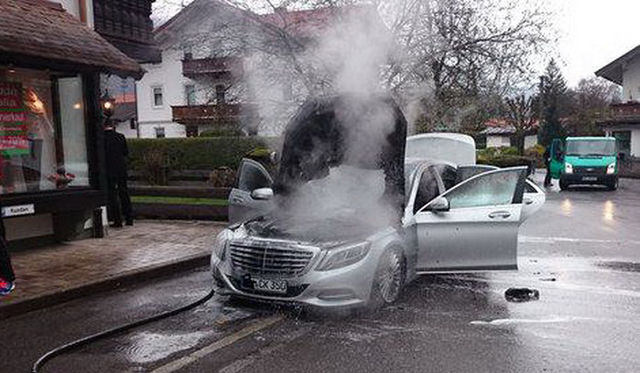 While the automotive world begins to wrap its head around the fact that all 2014 Porsche 911 GT3s are receiving new engines because of a spate of fires in Europe, another high-end car you wouldn't expect to spontaneously combust has done just that. This time it was a brand new 2014 Mercedes-Benz S350 BlueTec in Germany.
This particular Mercedes-Benz S-Class had only been on the roads for two weeks and while the elderly owners were behind the wheel, a fire started under the hood. Fortunately, the driver and passenger quickly pulled over and escape without injury.
Before long, no less than 18 fire fighters and three fire trucks were on scene to put out the flames. Under the hood of the S350 BlueTech is a 3.0-liter V6 engine delivering 258 hp and 457 lb-ft of torque but unfortunately, that engine as well as a large proportion of the car, including the front suspension which seems to have collapsed from the heat, has been destroyed by the fire.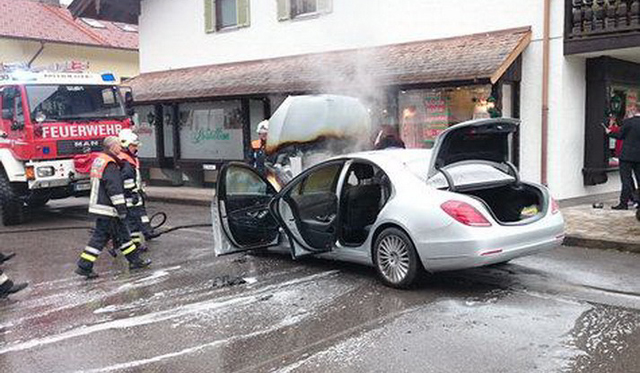 Last year, a total of 290 Mercedes-Benz S-Class models were recalled in the United States due to incorrectly installed seat belt anchors. We can only hope that this fire was an isolated incident and that another S-Class recall, this time following the 911 GT3, isn't on the cards.
[Via Merkur]