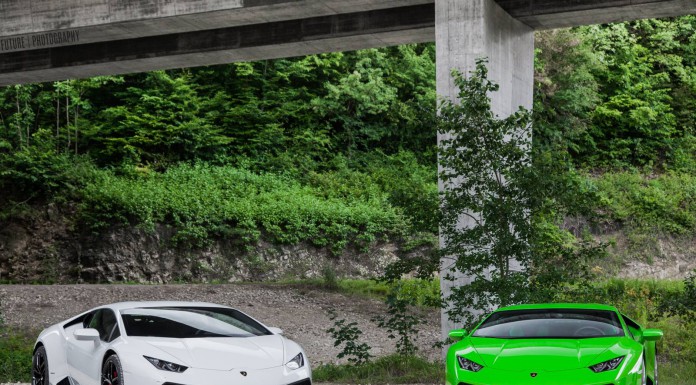 When replacing a car as iconic and successful as the Gallardo, Lamborghini always had a challenge on its hands. Despite this, the Gallardo's successor, the Lamborghini Huracan has already proven a raging success thanks to its stunning styling and exceptional performance capabilities.
With deliveries of the new entry-level Lamborghini supercar now underway, some really stunning examples are beginning to emerge. Here we have not one but two absolutely gorgeous Huracans posing together alongside a couple of Aventadors in Switzerland for the guys from Future Photography!
The white Huracan features a set of epic gloss black wheels complete with red brake calipers while the bright green one has more restrained silver wheels with black brake calipers. Despite their differences, both look absolutely jaw-dropping which perfectly demonstrates that no matter how the new Huracan is specified, it looks good.
As for the Aventadors also featured in this epic photoshoot, one is finished in a dark shade of grey while the other is an Aventador LP720-4 Roadster 50th Anniversario in white.