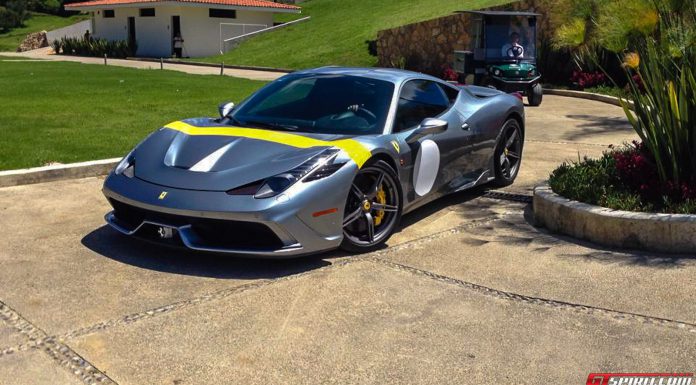 We have come across these recent snapshots that show one of the only two Porsche GT3 RS 4.0s delivered in México by the side of a Ferrari 458 Speciale interestingly configured with the Historical Racing Livery instead of the typical NART (North American Racing Team) stripes. That combination of silver paint plus the yellow line across the hood and the white spots dates back to the 250 GT0 and has been seen in the 599 GTO, although it may be available when configuring other models, for a price.
With a 4.5L V8 engine and 597 hp, the 458 Speciale is the most powerful naturally aspirated Ferrari to date but it might not be as rare as the 4.0L flat six engine powered Porsche GT3 RS producing 500 hp and sporting a unique set of stripes for the model, of which there were only two sold in the whole country and this being the only with white painted wheels and Akrapovič exhaust system.
The images were shot in the surroundings of a golf club where the owner of both vehicles goes to practice either the sport or loud accelerations while parking… anyway, we're glad he takes them out for a spin. While there's no further information on where the cars are stored, or when will they be seen on track, we will be surely seeing much more of this magnificent pair in the near future.