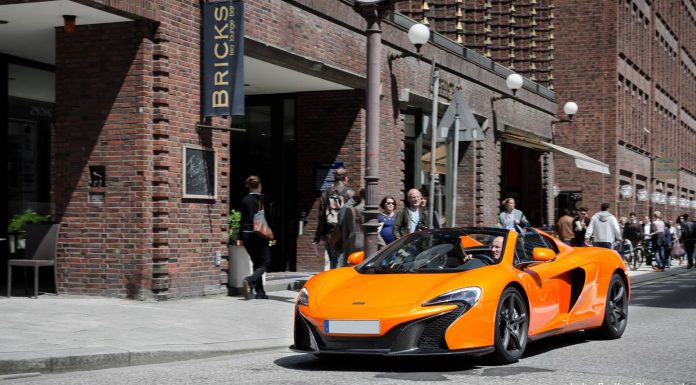 GTspirit reader Italian Car King Photography recently spotted a stunning Tarocco Orange McLaren 650S as the supercar was driving around Hamburg, Germany. The 650S is McLaren's replacement for the 12C and has more power and more torque than the outgoing car in addition to revised suspension and a refreshed appearance.
This particular car is one of the first 650S' registered on private plates in Germany. The 650S' 3.8-liter twin turbocharged power plant produces 25 hp and 80 Nm of torque more than the 12C, totalling 641 horsepower and 680 Nm. This makes it good for a 0-100 km/h acceleration time of 3.0 seconds, with 0-200 km/h taking a mere 8.4 seconds. It will also go on to achieve a top speed of 333 km/h or 207 mph.
The photographer was able to follow the owner into a parking garage which allowed him to grab some detailed pictures of the wheels and interior and the car's P1-inspired front fascia and redesigned rear diffuser.