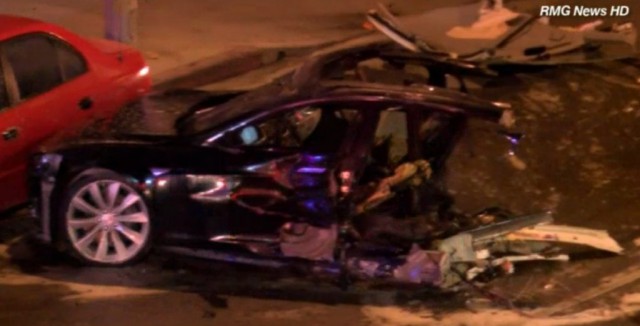 A Tesla Model S has been absolutely destroyed following a high speed police chase and crash in West Hollywood.
The Tesla Model S was stolen from a local dealership and before long, police were chasing it. However, the chase was called off when a police cruiser was involved in a minor crash. The Model S continued at high speed until it eventually crashed into a synagogue and split in half before bursting into flames. Police estimate the expensive electric sedan crashed at 160 km/h (100 mph).
The driver of the Model S was flung from the car and he is now in a critical condition in hospital. Additionally, an occupant in one of the cars the Model S crashed into is in a critical condition with two others in serious condition in hospital.
As the images show, the front passenger compartment remained in the middle of the road while the rear end ended up lodged in the entrance to the synagogue.
Witness on the scene report the fire of the Tesla Model S to be extremely intense with sparks being thrown up into the air while police crews watched on helplessly.
If the Model S driver survives his injuries, he will likely face numerous charges including reckless driving.
[Via Motor Authority and Jalopnik]