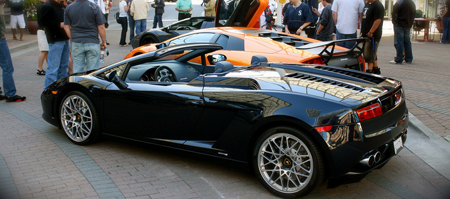 Somewhere in the world, this trio of Lamborghini's latest offerings was on display. It looks like it was a large event with several other Lamborghini's a few Ferrari's and a couple of Porsches also taking place. The same LP670 SV has been doing the rounds at Californian events for the past month. It's supposedly owned by one of the official Californian Lamborghini dealerships.
We managed to secure some pictures as well, thanks to ApexRally.com. Seeing an LP670 SV, LP650 Roadster and an LP560 Spyder in the same place is hardly an everyday occurrence so it's good to see that even the local law enforcement took time out to go see the car. Enjoy the video of all the cars leaving and the pictures we've also attatched!
For more pictures, visit here.