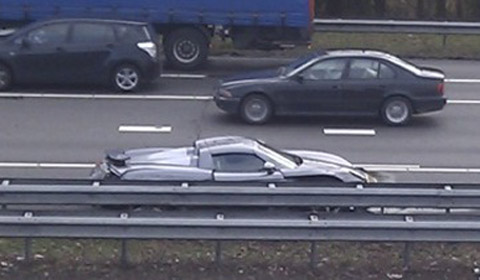 And another one bites the dust! Today this Porsche Carrera GT spun and crashed into the barrier of the A20 motorway near Rotterdam, The Netherlands.
The driver, Don Perridon, made the headlines last year for having his fathers Bugatti Veyron impounded by the Dutch police for driving 160km/h where only 80km/h was allowed. Dutch police didn't keep the Bugatti Veyron for long as we saw it in action again a few months later at the Supercar Drive 2010.
According to the owner the damages to the Carrera GT are not that bad, although he reckons it will set him back about € 10,000.
Update: Our friends at Autoblog.nl received some close-up pictures of the crashed Porsche Carrera GT. The damage is more than we anticipated on forehand. Check out the pictures here!
[Via Quotenet]